News For Lulu

– Sonny Clark

A Latin/swing classic from pianist Sonny Clark: original sextet.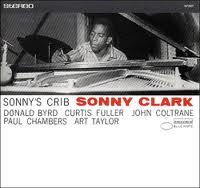 All selected items will be available for download after purchase.
Recording:

Sonny Clark - Sonny's Crib

Recorded on:

September 1, 1957

Label:

Blue Note (BLP 1576)

Concert Key:

F minor

Vocal Range:

, to

Style:

Latin/swing (medium)
Trumpet - Donald Byrd
Tenor Sax - John Coltrane
Trombone - Curtis Fuller
Piano - Sonny Clark
Bass - Paul Chambers
Drums - Art Taylor
This is a 32-measure AABA form composition. It starts Latin, the bridge (B) swings, and the solos are all swing. Our audio except starts with the melody, which is preceded on the recording by a four-measure intro (notated on the C treble clef lead sheet). In the intro, pianist Sonny Clark establishes the one-measure bass pattern with his left hand that he also plays under the horn melody.
In addition to melody parts, the second part tenor sax and third part trombone parts are also available, plus a separate Bass part. If you listen carefully to our except, you'll hear that bassist
Paul Chambers
plays differently in the first and third measures of what becomes a repeating two-measure pattern. The separate bass part really clarifies the bass line for the melody and Coda, and it also includes Paul's walking line for the bridge.
MP3 download information:
The recording of
News For Lulu
is 8:34 in length, therefore iTunes makes it available "album only." For those of you who prefer to buy from iTunes, we want you to know that the lead sheet for
Sonny's Crib
from that album is also available here, so you might as well buy the album. The MP "album" comes with the original take (13:31) and an alternate take (9:53) of
Sonny's Crib
. In contrast to iTunes, Amazon makes most longer takes available separately, at a slightly higher price.
"Sonny's Crib"
was recorded at Rudy Van Gelder's legendary
Hackensack Studio
.
This
sextet session
was recorded just two months after Sonny Clark's "
Dial 'S' For Sonny
" Blue Note album, which was Sonny's first official album as a leader. You can learn more about Sonny's background leading up to the
News For Lulu
session in the historical notes to his composition
Bootin' It
. Clark had already recorded two dates with trombonist
Curtis Fuller
, but this was the only time he would record with John Coltrane. On December 15, 1957, Clark and Byrd recorded together on Lou Donaldson's album Lou Takes Off. He'd previously recorded four albums with bassist
Paul Chambers
and three with drummer Art Taylor. Two of these albums had the three musicians together as the rhythm section.
Coming soon:
Hear a sample
sample
of what we're working on—etudes based on the chord progression of
News For Lulu,
a demonstration version plus Minus You audio to practice with.
Essential Bass (Paul Chambers) [LEVEL 3]
This medium Latin tune has a very interesting bass line played by master bassist Paul Chambers. While the piano plays one line, the bass plays the same line but displaced by a beat to create an overlapping effect. It makes for a great exercise in time and focus.

This is a great one to practice along with the recording; you can not only lock up with P.C., but you can also play along with the all-star rhythm section of Sonny Clark on piano and Art Taylor on drums. If the overlapping bass part is a little too far outside your comfort zone, check out the Minus You version which has a simplified Basic Bass part.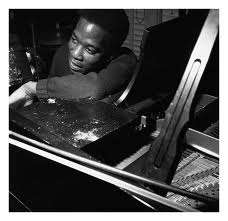 July 21, 1931 – January 13, 1963
A remarkable composer and pianist whose special touch and articulation makes him instantly recognizable at the piano, Sonny (Conrad Yeatis) Clark recorded so much on the Blue Note label that he was practically their in-house pianist. This hard-bop mainstay was particularly noteworthy for his virtuosic right hand lines. Read more...