Newborn Spirit

– Geoffrey Keezer

This fun modern soul-jazz swinger is one of Geoffrey Keezer's two tributes to pianist Phineas Newborn, Jr. A solo piano arrangement by Geoffrey is available.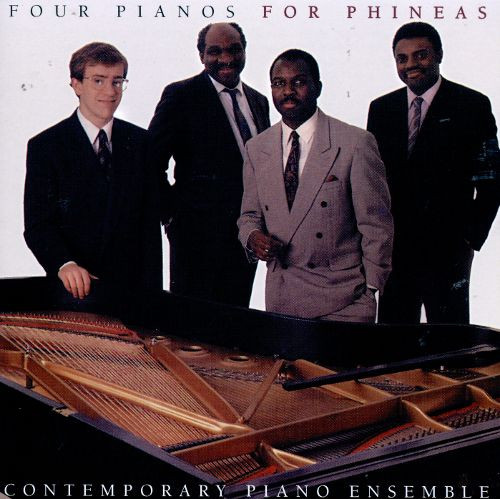 All selected items will be available for download after purchase.
Recording:

Contemporary Piano Ensemble - Four Pianos For Phineas

Recorded on:

June 30, 1989

Label:

Somethin' Else (TOCJ 5528)

Concert Key:

A-flat

Vocal Range:

, to

Style:

Swing (medium)
Piano - Geoffrey Keezer
Bass - Bob Cranshaw
Drums - Billy Higgins
With its laid-back swing feel and bluesy melody, Newborn Spirit is one of Geoffrey Keezer's most fun compositions and a great place to start exploring his distinctive style. It's got a classic soul-jazz feeling, updated with a few unexpected harmonies. The A section melody is entirely in the blues scale; it's punctuated with a little five-note hook before each of the three phrases, sort of a background "call" with a foreground "response." This hook is shown in our lead sheets with smaller notes, as it's not part of the main melody; in a setting with a horn player, the piano can play the hook to set up the melody. The bridge has no melody until the pickup to the last two measures; it's open for a solo.

The chord progression is related to, but not quite, "rhythm changes." The fourth measure has an unusual cadence descending in minor thirds: F7 to D7 to get back to A♭7. The bridge starts with four measures of D7 followed by two of G7; a further circle of fourths like the standard "rhythm changes" bridge is squeezed into the last two measures. Unlike most "rhythm changes" heads but like the original I Got Rhythm, there's a two-measure tag at the end of the C section—in this case ending on an unexpected G7(♯9).

There's an eight-measure pedal intro on the recording; our lead sheets show the piano melody here with smaller notes. Our E♭ lead sheet is written in a low register, but alto and baritone saxophonists have the option of playing it an octave higher.

Check out Piano Corner for details about the solo piano arrangement.
For another song from this
all-star tribute album
to Phineas Newborn, Jr., check out
Fond Times With Junior
by
James Williams
, whom Keezer replaced in Art Blakey's Jazz Messengers. This was the 18-year-old Keezer's fourth recording. A week earlier, he had already recorded his second album as a leader, "
Curveball,
" which features another tribute to Newborn:
Waltz For Phineas
. The following year, Keezer recorded "Here And Now," his third album as a leader, which like "Four Pianos For Phineas" features Billy Higgins on drums.
Geoffrey Keezer's own two-page solo piano arrangement is available. It's close to the original recording, but with a few differences; it consists of the head only without an intro. Like the recording, both the "call" and "response" of the A section are voiced in fourths in the right hand, with rhythmic left-hand hits. The left hand adds quarter-note "stride" on the sixth and seventh measures of the A section. The bridge has a written solo with a left-hand ostinato. This arrangement has detailed chord symbols showing the important extensions and alterations.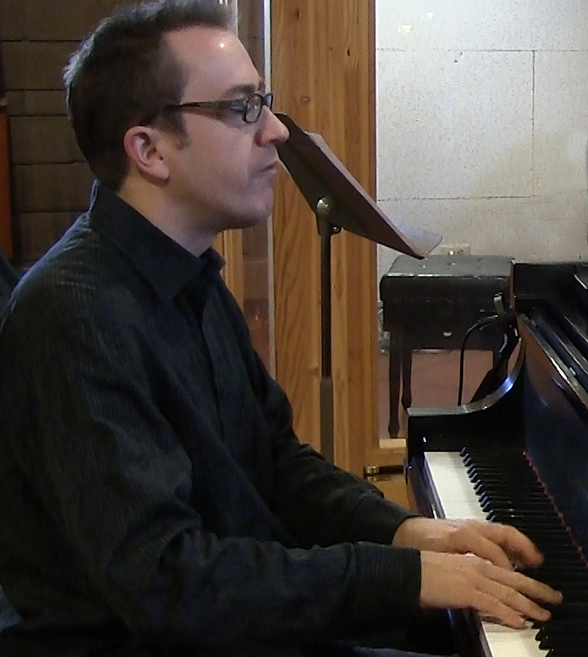 born on November 20, 1970
A lauded name on the jazz scene since the tender age of 17, Geoffrey Keezer is a native of Eau Claire, Wisconsin. Geoff took up the piano at age three and quickly showed himself to be a prodigy. As an eighteen-year-old freshman at Berklee College of Music in 1989, he was invited to join Art Blakey's Jazz Messengers, launching his talents into the spotlight. The year before, his mentor James Williams encouraged him to record his debut album, the well-received "Waiting In The Wings." His career continued to take off in the early 1990s with a performance at the Hollywood Bowl of Gershwin's Rhapsody In Blue (conducted by John Mauceri). Read more...