Never Been In Love (vocal)

– Tadd Dameron & Irving Reid

Slow and dreamy or uptempo and happy, Dameron's luscious melody and rich harmonies create an ideal environment for expression. Two Minus You audio tracks in two different keys; two ways to interpret.
All selected items will be available for download after purchase.
Recording:

Per Husby - If You Could See Me Now

Recorded on:

November 14-15, 1995

Label:

Gemini (GMCD 89)

Concert Key:

B-flat

Vocal Range:

Contralto, F3 to B4

Style:

Swing (medium up)
Vocals - Karin Krog
Trumpet - Earl Gardner, Michael Leonhart
French Horn - Peter Gordon
Trombone - Jim Pugh
Tuba - Howard Johnson
Soprano Sax - Jerome Richardson
Alto Sax - Chris Potter
Tenor Sax, Flute - Frank Wess
Baritone Sax - Scott Robinson
Piano - Ted Rosenthal
Bass - Jay Leonhart
Drums - Grady Tate
This recording of
Never Been In Love
is mostly taken at a medium up swing tempo. In the arrangement by Per Husby, Karin Krog sings the verse rubato in the key of F, accompanied only by the piano. The key switches to B♭ when the band enters, remaining so for the head.
Lyric Description:
Irving Reid's sophisticated lyric looks at love from two perspectives, before it happens, and after.
If another key would be better for you, send the key you'd like to
Don
and we'll post the transposition on the website for purchase. If you're not sure which key is best, send us your range and we'll work with you to figure out the best key.
We also have a Minus You audio version, an instrumental MP3 track with piano, bass & drums, that is perfect for a backing track to help you define your own performance. It features the excellent accompaniment skills of pianist
Cecilia Coleman
. Cecilia's sensitive phrasing will set you up for any way you care to approach the lyric.The piano gives you the first melody note before the short intro:
CLIP
.
Note from Don Sickler:
This is a perfect song to explore "open phrasing," a term that vocalist/pianist/educator Gloria Cooper and I explained in our book "
Jazz Phrasing - A Workshop For The Jazz Vocalist
".
Never Been In Love
was our ballad example. Here's a brief composite excerpt drawn from the book showing Gloria's different "open phrasing" approaches to the song's first phrase, the emotionally-loaded title phrase
[>]
.
Don's own instrumental "open phrasing" experiments can be heard
here
.
All selected items will be available for download after purchase.
Recording:

Rachel Gould - Tadd Dameron Songbook

Recorded on:

October 23, 2004

Label:

jazzleadsheets.com (JLS 1040)

Concert Key:

A-flat

Vocal Range:

Contralto, E-flat3 to A-flat4 written 8va

Style:

Ballad
Vocals - Rachel Gould
Piano - Cecilia Coleman
Bass - Tim Givens
Don Sickler: Karin Krog had already recorded this song by the time I met vocalist Rachel Gould. I told Rachel I was looking for a real ballad version of Never Been In Love, and Rachel's recording shows how well it works as a vocal at a ballad tempo. It's not a complicated melody, so you have to really sell both the melody and the lyric as it flows over Tadd's wonderful chords. I love Rachel's interpretation. Her version features a half chorus of piano solo before she returns to the bridge.

A Minus You track is available for this ballad recording, so vocalists can work on this song in the lower key of A♭. The vocal lead sheet shows the melody an octave above the range where Rachel Gould sings it, to avoid too many ledger lines.
Vocalist Rachel Gould met Don Sickler at a jazz conference in New York City. She was teaching voice in Europe and was interested in new material for jazz vocalists. Second Floor Music's
Sing JAZZ!
folio had just come out, and Rachel loved it. On her next trip to New York, Don took her to Rudy Van Gelder's studio to capture her versions of several of the songs in "Sing JAZZ!", including Fritz Pauer/Mark Murphy's
Empty Room
. Rachel is also a marvelous lyricist and has contributed a wonderful lyric to our "
Dexter Gordon Songbook
" project:
Please Let Me Share This With You
.
A Minus Vocals track is available; the key is A♭.
CLIP
This recording begins with the verse, which is rubato until time starts in the last measure before the chorus. After the melody, return to B (the bridge) and sing to the end.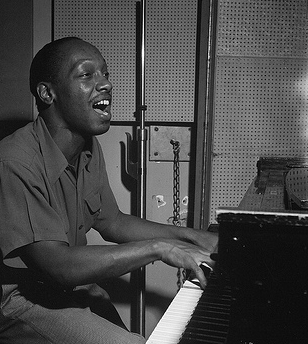 February 21, 1917 – March 8, 1965
A giant of the bebop era, Dameron had a wonderful melodic and harmonic imagination which he brought to compositions and arrangements for both small and big bands. Writing first for Harlan Leonard, Jimmy Lunceford, Count Basie and Billy Eckstine, in the late '40s Dameron started composing and arranging for Dizzy Gillespie's big band. He also recorded his own superb sextet for Blue Note Records in 1947 which featured trumpet great Fats Navarro. Read more...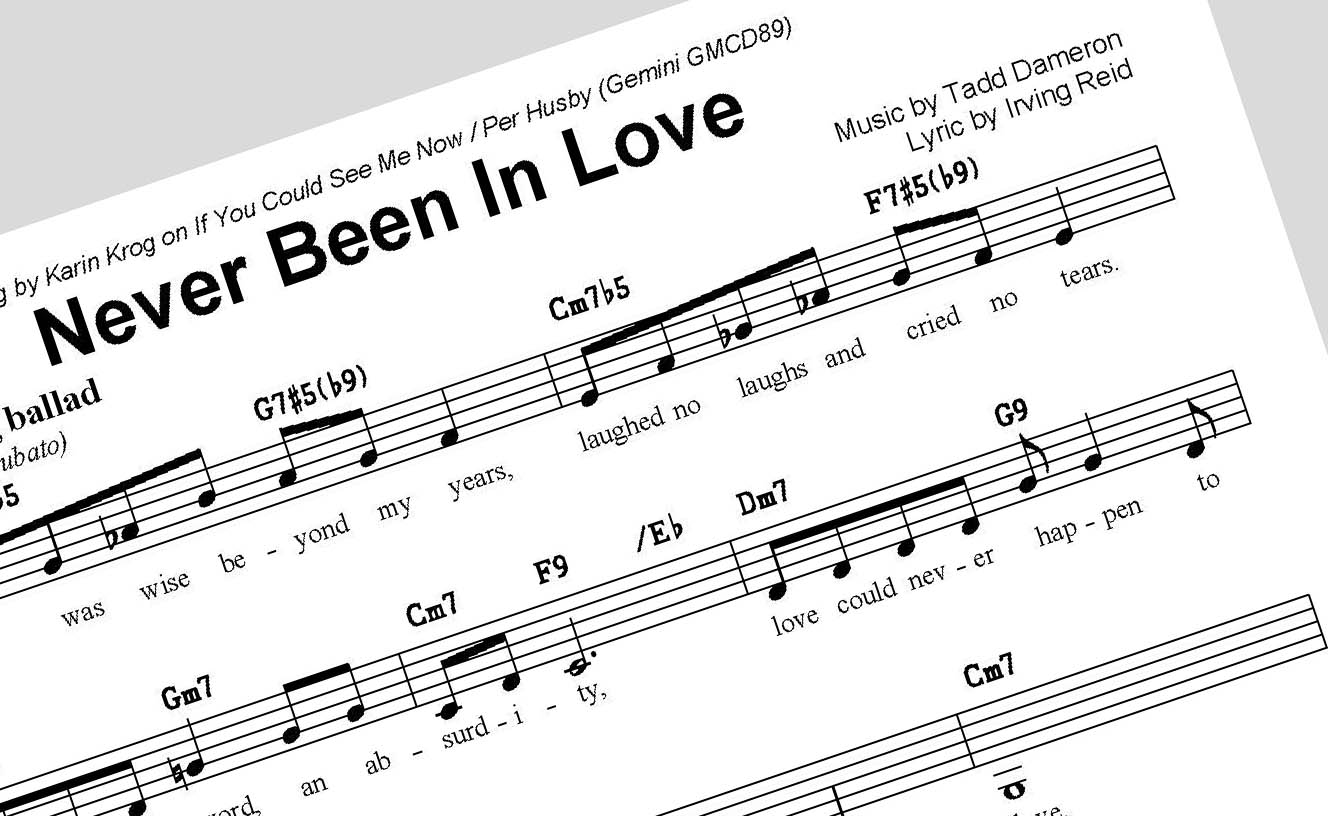 December 14, 1918 – May 16, 1977
Irving Reid was a very gifted lyricist in New York during the 1950s and 1960s. He worked extensively in musical theater and has over 250 titles registered at the performance rights societies. He worked with many other composers and lyricists, even wrote for shows and dramas. His works range from popular music (some recorded by Perry Como) to jazz to sacred. Read more...