Never Been In Love

– Tadd Dameron

A beautiful romantic ballad that was never recorded in Tadd's lifetime. We have two Minus You recordings, in two different keys, so melody instrumentalists or vocalists can experience personalizing this intense ballad.
All selected items will be available for download after purchase.
Recording:

Don Sickler - Further Explorations Vol. 1

Recorded on:

April 4, 2003

Label:

jazzleadsheets.com (JLS 1034)

Concert Key:

B-flat

Vocal Range:

, to

Style:

Ballad
Flugelhorn - Don Sickler
Piano - Cecilia Coleman
Bass - Tim Givens
Drums - Vince Cherico
Like
I'm Never Happy Anymore
, this song recalls an American Songbook standard but with the classic Dameron touch. This version is at a ballad tempo, the way it was originally written, and has a Minus You track, which any melody instrumentalist or vocalist can play along with.
This song extends the standard 32-measure AABC form with a 12-measure tag. This tag begins as a variation of the B section. There is a verse, which is not included in our Minus You version or in the F concert lead sheets. It is, however, included in the Piano Arrangement, taken from Tadd's manuscript.
We're providing lead sheets in two different keys: Tadd's original key (F concert) for all instruments and the Piano Arrangement (with voicings) edition; and the Minus You editions [in B♭ concert, scroll down to see them under EXTRAS], the key of our jazzleadsheets.com recording.
Get the B♭ concert editions to use with the Minus Melody MP3 track. Get the version in F concert if you would prefer to play it in the original key with your combo.
Don Sickler's two performances with the Minus You track, one on flugelhorn, one on muted trumpet, is available as one purchase. Hearing Don's phrasing variations can provide new ideas for your own interpretation. Don also recorded versions in A♭ with pianist
Norman Simmons
on piano. See the album cover above right (Vol. 2).
There's also a beautiful lyric by Irving Reid. Check out the
swing vocal version
, recorded by Norwegian vocalist
Karin Krog
, and the
ballad version
by our own
Rachel Gould.
"Further Explorations"
was recorded at the legendary
Van Gelder Studio
in Englewood Cliffs.
Although the rhythm section recorded this track at Rudy Van Gelder's Studio in 2003 as a Minus You track for singers, Don Sickler added his flugelhorn/muted trumpet performance to the existing track just two days before the anniversary of Tadd's 100th birthday (2/21/2017).
Note from Don Sickler:
This ballad is perfect for exploring "open phrasing." The rhythm of the melody is very simply notated, because Tadd's desire is for you to shape the melody rhythmically as you hear it. In 2003 singer/pianist/educator Gloria Cooper asked me if I would consider writing a jazz phrasing book for singers with her ( "
Jazz Phrasing - A Workshop For The Jazz Vocalist
".) I loved the idea—I have a lot of pet peeves with singers that I've always wanted to address, and I saw this collaboration as a perfect chance to discuss them.
Our book defines two distinctive rhythmic styles of jazz phrasing: specific rhythm phrasing and open phrasing. Ballads are perfect examples of open phrasing songs, and we used
Never Been In Love
to illustrate a variety of ways to explore the first eight-measure phrase of the song. If you want to hear an excerpt of those examples, check out the
vocal edition
.
I've always wanted to explore this song instrumentally, so I went back to a Minus Melody track we made, but never released, in 2003. I explored it on flugelhorn first, then did it an octave higher on muted trumpet. I heard it very differently each time, and I know, in the future, every time I play with the track, I'll again hear it differently. It's a fantastic song to play when experimenting with open phrasing.
Another instrumental recording was done in 2003 by Scott Robinson (playing tenor sax) in Prague with a Czech rhythm section. Titled on Scott's recording as
Never Been In Love Before
, it is in B♭ and taken at a medium-up tempo. Robinson became acquainted with the song when he played on the
Karin Krog/Per Husby recording
.
Solo Piano Arrangement Tadd wrote out the melody with voicings in his original key of F concert. It makes a good piano arrangement, and it's a great way to get insight into his harmonic language.
Minus You audio
Our Minus Melody track
[clip]
is one chorus long. The instrumental soloist or vocalist must therefore work with the melody, interpreting it however they want with the beautiful, sensitive piano artistry of Cecilia Coleman setting up each phrase of the melody. The lead sheets show the basic melody; the soloist must come up with their own expressive variations.
Note from Don Sickler:
I had a ball playing with this track, and I look forward to experimenting with it many more times in the future. I first tried it on flugelhorn, and then did it again with muted trumpet (an octave higher). I heard the song very differently each time. We're including both versions, first flugelhorn
[>]
, then muted trumpet
[>]
on our mp3 track.
All selected items will be available for download after purchase.
Recording:

Don Sickler - Further Explorations Vol. 2

Recorded on:

April 4, 2003

Label:

jazzleadsheets.com (JLS 1035)

Concert Key:

A-flat

Vocal Range:

, to

Style:

Ballad
Trumpet - Don Sickler
Piano - Cecilia Coleman
Bass - Tim Givens
This recording starts with the verse and is followed by two choruses. The second chorus starts with the piano soloing on the first two A sections; the trumpet solos during the bridge and then plays the last section of the melody. This recording is in A-flat concert, whereas the
Vol. 1 recording
(above left) was in B-flat concert.
Note from Don Sickler:
I recorded this beautiful ballad in B-flat concert (see album cover above left) with the track made for our
Sing JAZZ!
folio; then I remembered vocalist Rachel Gould had recorded a lyric version for us, in A-flat concert. It's also different in that she starts with the verse; the second time through the bridge there was space for me to solo. Getting to play this gorgeous ballad in two different keys was a real treat for me. Check out our Minus You edition (click on the Minus You tab) so you can experience it, too.
"Further Explorations Vol.2"
was recorded at the legendary
Van Gelder Studio
in Englewood Cliffs.
Having produced over 20 years of sessions featuring Second Floor Music titles recorded at the Van Gelder Recording Studio, Don Sickler decided to enjoy them himself, by recording trumpet or flugelhorn along with the rhythm section tracks. In our experience at jazzleadsheets.com, it looks like many instrumentalists don't check out vocal recordings for new material; they seem to stick with instrumentals. So, why not make instrumental versions and add new titles to the instrumental repertoire?
Exclusive Minus You audio tracks
Our Minus Melody track has only piano and bass. There is no count off, as the verse is rubato. Once you've heard the first piano chord you start your own rubato adventure. If you keep your eye on the Piano indications on the lead sheet, the melody won't get lost.
The form is:
-- verse
-- melody
-- piano sets up the return to the bridge, which you can solo on, or return to the bridge melody.
-- play the melody after the bridge, or you can keep soloing longer to play the melody out from C

Note: as there are no drums on this track, it can be used by a drummer to practice sensitive ways to accompany a ballad.

Don Sickler: After you've internalized the melody, it's also a lot of fun to just solo on the whole track.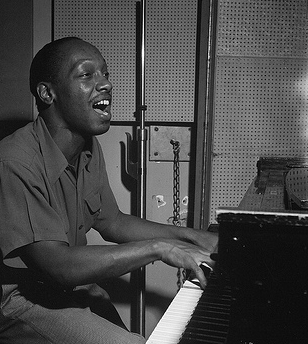 February 21, 1917 – March 8, 1965
A giant of the bebop era, Dameron had a wonderful melodic and harmonic imagination which he brought to compositions and arrangements for both small and big bands. Writing first for Harlan Leonard, Jimmy Lunceford, Count Basie and Billy Eckstine, in the late '40s Dameron started composing and arranging for Dizzy Gillespie's big band. He also recorded his own superb sextet for Blue Note Records in 1947 which featured trumpet great Fats Navarro. Read more...