Minor Mode

– Booker Little

A challenging and unusual minor blues, full of shifting feels and tricky licks. Lead sheets, second parts and Booker Little's trumpet solo (in B-flat and C editions).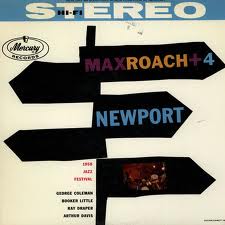 All selected items will be available for download after purchase.
Recording:

Max Roach - Max Roach + 4 At Newport

Recorded on:

July 6, 1958

Label:

EmArcy (MG 36140)

Concert Key:

F minor

Vocal Range:

, to

Style:

Swing (medium up)
Trumpet - Booker Little
Tenor Sax - George Coleman
Tuba - Ray Draper
Bass - Art Davis
Drums - Max Roach
Video
The Max Roach Quintet, 1958 on "The Stars of Jazz:" Max Roach (d), Booker Little (tpt), George Coleman (ts), Ray Draper (tuba), Art Davis(b)
Miki Yamanaka (p), Jimmy Macbride (d), Hillel Salem (tpt), Alon Near (b), "Miki's Mood - The Music of Booker Little," 5/25/22
The Max Roach Quintet, 1959 on "Look Up And Live:" Max Roach (d), Booker Little (tpt), George Coleman (ts), Ray Draper (tuba), Art Davis(b)
This is a minor blues head with a very interesting set up. The audio excerpt starts at the beginning of the track. The trumpet and tenor sax play a measure and a half pick up, alone, in octaves. The rest of the ensemble jumps in, establishing a 2-feel for four measures. Next, the tempo doubles up, for four measures, then Max sets a new tempo for Booker's challenging minor blues melody. Everything, including the Coda, is notated in the lead sheets. The melody and intro have harmony parts, so second horn parts are also available.
Minor Mode
is Booker Little's first recorded composition. The 1958 Newport Jazz Festival marked the debut of Max Roach's new quintet without piano, the fifth member being
Ray Draper
on tuba. Although several discography sources list the date of the performance as July 6, the Goldblatt book "Newport Jazz Festival" clearly lists who performed when on each day of the festival from 1956 to 1976, and Max Roach's group appears on July 6, right after the George Shearing Quintet, and before Dinah Washington.
This recording was Booker Little's second recording: his first was a little more than a month earlier in Chicago (June 3, 1958) in a more conventional Max Roach quintet setting.
Transcribed Trumpet Solo: Ray Draper plays the first solo on the recording, on tuba. His last note can be heard on the downbeat of our audio clip for the start of Booker Little's solo trumpet. This incredible new young trumpet player must have opened plenty of eyes at that Newport Festival. At the age of 20 he could fly all over the trumpet, as this five-chorus solo shows.
Check out other Booker Little trumpet solos on jazzleadsheets.com, where you can also read more about this incredible artist who unfortunately had such a short life.
Bee Tee's Minor Plea
The Grand Valse
Minor Sweet
Opening Statement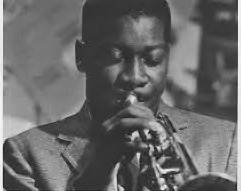 April 2, 1938 – October 5, 1961
A tragic loss to the world of jazz at age 23! Hearing is certainly believing: in Booker's short life, he still was able to leave us with recordings and compositions that are guaranteed to astonish and captivate. His effortless-sounding virtuosity ranks him as one of the greatest trumpet players. He was also a gifted composer, who obviously took composing very seriously, as his recording output shows. Booker began on trumpet when he was 12 and played with Johnny Griffin and the MJT + 3 while attending the Chicago Conservatory. He worked with Max Roach (1958-1959) and then freelanced in New York. He recorded with Roach and Abbey Lincoln, was on John Coltrane's Africa/Brass album, and was well-documented during a July 1961 gig at the Five Spot with Eric Dolphy. Booker Little led four sessions before his tragic early death. Read more...