Opening Statement

– Booker Little

This Booker Little composition makes a big impact while maintaining an effortlessly lyrical melody. Booker's trumpet solo available in B-flat and C editions.

All selected items will be available for download after purchase.
Recording:

Booker Little - Booker Little

Recorded on:

April 13, 1960

Label:

Time (M 52011)

Concert Key:

D minor

Vocal Range:

, to

Style:

Swing (medium up)
Trumpet - Booker Little
Piano - Tommy Flanagan
Bass - Scott La Faro
Drums - Roy Haynes
Booker Little opened his second album as a leader with his Opening Statement, and quite a statement it is! Our audio excerpt starts as the track does, with Booker's melody pick-up. The form is ABA, the A sections are 14 measures, and B is 10 measures. B is Latin for the melody but remains swing in the solo choruses. Booker never seems to need to push hard. Note how effortlessly he arrives on his high C-sharp to start measure 6 of the A section.


This is Booker Little's
only quartet date
as a leader. In fact, this album was the only single horn recording Booker ever made. The album was recorded in two sessions, two days apart.
Opening Statement
was the way he started the first session, with Tommy Flanagan on piano. The second day of the session, April 15, had Wynton Kelly on piano.
Transcribed Trumpet Solo:
Our audio excerpt starts with the last melodic phrase of the melody
trumpet
, and it gives you a little taste of what's in store during Booker's three choruses before he turns it over to pianist Tommy Flanagan. After bassist Scott LaFaro plays a chorus, Booker solos for another chorus before returning to the melody.
In addition to all of Booker's solo choruses, the transcribed solo editions also contain Booker's melody choruses, showing his articulations and varying melodic twists and turns.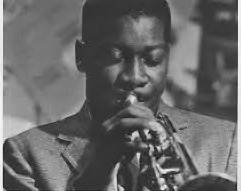 April 2, 1938 – October 5, 1961
A tragic loss to the world of jazz at age 23! Hearing is certainly believing: in Booker's short life, he still was able to leave us with recordings and compositions that are guaranteed to astonish and captivate. His effortless-sounding virtuosity ranks him as one of the greatest trumpet players. He was also a gifted composer, who obviously took composing very seriously, as his recording output shows. Booker began on trumpet when he was 12 and played with Johnny Griffin and the MJT + 3 while attending the Chicago Conservatory. He worked with Max Roach (1958-1959) and then freelanced in New York. He recorded with Roach and Abbey Lincoln, was on John Coltrane's Africa/Brass album, and was well-documented during a July 1961 gig at the Five Spot with Eric Dolphy. Booker Little led four sessions before his tragic early death. Read more...