Bee Tee's Minor Plea

– Booker Little

A refreshing change of pace from many of Booker Little's near-impossible charts: an easily mastered minor blues with a simply wonderful melody. Booker's trumpet solo transcription available in B-flat and C editions.

All selected items will be available for download after purchase.
Recording:

Booker Little - Booker Little

Recorded on:

April 15, 1960

Label:

Time (M 52011)

Concert Key:

F minor

Vocal Range:

, to

Style:

Swing (medium)
Trumpet - Booker Little
Piano - Wynton Kelly
Bass - Scott La Faro
Drums - Roy Haynes
Much of Booker Little's music is difficult, with intricate melodies over complex chord progressions. Not this time. Bee Tee's Minor Plea is just a great minor blues melody. All trumpet players, especially, should strive to play Booker's melody with his ease.

Don Sickler writes: "Booker Little was only 21 when he wrote and recorded this composition. It's unbelievable when you realize he only lived to be 23 years old. He was both an extremely gifted trumpet player and an exceptional composer. He would have only been 70 years old in 2008!
"A major goal of mine is to expose all young trumpet players to Booker. I first discovered Booker Little late, when I was 25 years old. I had just finished my Master's Degree in Trumpet performance at Manhattan School Of Music. Boy, did I feel robbed of my trumpet youth when I first heard Booker. I had no idea the trumpet could be played with such ease. I always thought you had to take a real muscular approach to playing high. Not Booker: going up, coming down, everything sounds effortless. Of course, there is also his tremendous technical facility on the trumpet, which certainly goes hand in hand with an effortless approach. Where would he have taken the trumpet, had he lived?"
A lot of musicians are interested in the titles of compositions. His name is Booker T. Little, so we're presuming he's the "Bee Tee."
Check out other titles recorded on this
album
.
Transcribed Trumpet Solo:
Booker starts his solo
trumpet
with two developing lyrical choruses. Our solo audio excerpt starts with Booker's pick up note to his third solo chorus. As you can tell, Booker listened to a lot of Clifford Brown. You'll hear him pay homage to Clifford with his turns as he weaves an interesting tri-tone substitution line into the fourth measure of the blues. After a few more lyrical statements, Booker starts moving into double time. This young man definitely knows how to play the blues! A seven-chorus solo, B-flat and C treble clef concert editions available.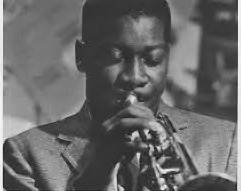 April 2, 1938 – October 5, 1961
A tragic loss to the world of jazz at age 23! Hearing is certainly believing: in Booker's short life, he still was able to leave us with recordings and compositions that are guaranteed to astonish and captivate. His effortless-sounding virtuosity ranks him as one of the greatest trumpet players. He was also a gifted composer, who obviously took composing very seriously, as his recording output shows. Booker began on trumpet when he was 12 and played with Johnny Griffin and the MJT + 3 while attending the Chicago Conservatory. He worked with Max Roach (1958-1959) and then freelanced in New York. He recorded with Roach and Abbey Lincoln, was on John Coltrane's Africa/Brass album, and was well-documented during a July 1961 gig at the Five Spot with Eric Dolphy. Booker Little led four sessions before his tragic early death. Read more...