Full Moonlight And Stars Made Of Silver

– Cecil Payne

A romantic ballad that really lends itself to expressive melodic interpretation. Our exclusive "Further Explorations" recording, in a different key from the original version, is available in Minus You format.
All selected items will be available for download after purchase.
Recording:

Cecil Payne - Brooklyn Four Plus One

Recorded on:

February 8, 1999

Label:

Progressive (PCD 7109)

Concert Key:

E-flat

Vocal Range:

, to

Style:

Ballad
Bari Sax - Cecil Payne
Piano - Ed Stoute
Bass - Leonard Gaskin
Drums - Wade Barnes
Mellow, warm-toned, and eminently singable, this ballad is every bit as romantic as its title implies. The simple melody lends itself to expressive interpretation. The second and fourth measures of the A section both have A♭m7 to D♭7, the passionate "IV minor" tonality. Between them in the third measure is a slightly unexpected B♭m7, and the second half of the A section descends both melodically and harmonically back to the tonic. The bridge visits G major and F major before returning to E♭. There is a two-measure tag which extends the C section to 10 measures by repeating the 5th and 6th measure.

Our lead sheet shows the basic melody and changes. On Cecil Payne's recording, he starts with the bridge, rubato and accompanied only by piano, before going into a walking ballad tempo for the head. After this first bridge, Cecil mostly improvises, only occasionally referring to the melody. This version also has a slightly different form from our lead sheet, an even 32 measures without the two-measure tag.
Don Sickler:
Cecil finished composing this beautiful ballad many years after he came up with the first phase phrase of the melody. Cecil was a war veteran; unfortunately I don't remember all of the specific facts of this war story, but I will never forget Cecil relating to me the nightly fear he faced, under fire, crouched in a fox hole, scared to death. He said the only way he was able to calm himself down was to stare into the clear night sky and sing to himself: "Full Moonlight, Stars Made Of Silver" to the opening melodic phrase of this song.
The "Plus One" of this album's title is vocalist Tulivu-Donna Cumberbatch, who makes a guest appearance on four songs. This was one of Cecil Payne's last recordings; a year and a half later, he did his final album as a leader, "
Chic Boom
." Bassist Leonard Gaskin was a very longtime collaborator of Cecil's; he played on the latter's very first recording, trombonist
J.J. Johnson
's Savoy session of June 26, 1946, with Bud Powell and Max Roach. Payne and Gaskin also recorded together in the late '40s and early '50s with vocalists Billie Stewart, Bob Harris, King Pleasure, and Blossom Dearie.
All selected items will be available for download after purchase.
Recording:

Don Sickler - Further Explorations Vol. 1

Recorded on:

May 28, 2003

Label:

jazzleadsheets.com (JLS 1034)

Concert Key:

B-flat

Vocal Range:

, to

Style:

Ballad
Flugelhorn - Don Sickler
Piano - Cecilia Coleman
Bass - Tim Givens
Drums - Vince Cherico
Our "
Further Explorations
" version is in the key of B♭. The piano intro and ending from the recording is shown in our Minus You melody parts. Click on the Minus You tab for more information.
Don Sickler:
Thinking of Cecil's moving wartime story, I decided to record both a flugelhorn and muted trumpet version. The muted trumpet version follows the flugelhorn version.
"Further Explorations"
was recorded at the legendary
Van Gelder Studio
in Englewood Cliffs.
Don Sickler:
To start the new century (2000!), I was determined to create a new
Sing JAZZ!
book for singers, featuring a lot of instrumental songs which I felt were crying for a good lyric. On the hunt for lyrics for those great instrumentals, I was determined to involve as many of my good lyrical instrumental writers as possible.
For example, our pianist/composer
Rob Bargad
is also a great lyricist; singer/pianist/composer
Dena DeRose
had already recorded Rob's beautiful ballad
Another World
. I asked Rob if he'd like to write a lyric to someone else's song. After I told him Cecil's story, and he played through the song, Rob was very interested in seeing if he could come up with something Cecil would like. He did, Cecil loved it, and suggested we shorten the title for the lyric version to
Full Moonlight.
The track I've recorded with here was a minus vocal track in a female friendly vocal key, but we haven't found a vocalist to record the lyric yet.
The original
Sing JAZZ!
book is available at
HalLeonard.com
and at other music retailers.
Exclusive audio track minus melody
CLIP
This track is only one chorus long. Our Minus Melody track is a great opportunity for instrumentalists to work on their expressive ballad interpretation. The melody instrumentalist has the option of improvising on the second A section and/or the beginning of the C section.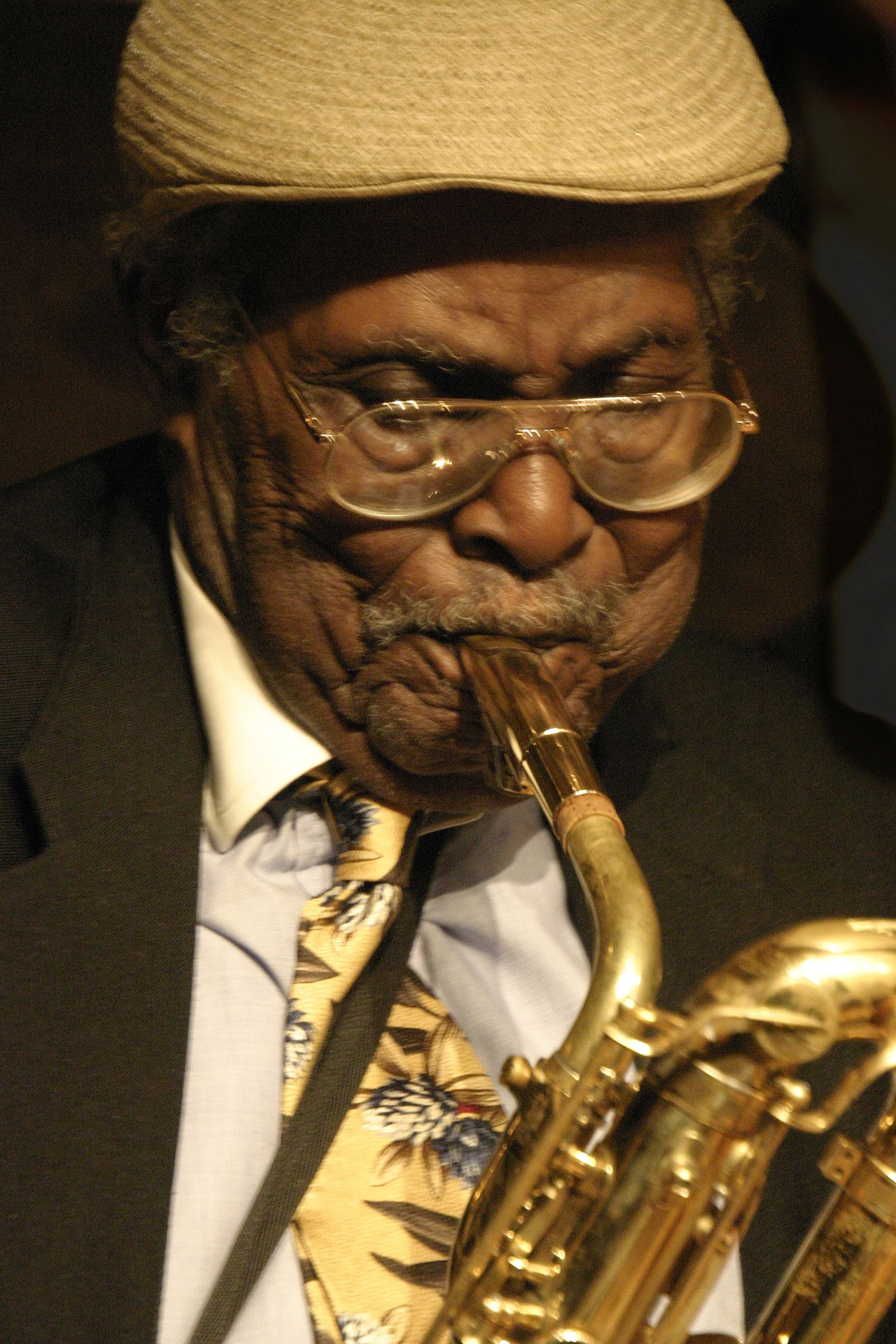 December 14, 1922 – November 27, 2007
Baritonist extraordinaire, Cecil Payne is regarded as one of the most inimitable saxophonists of the bebop era. After receiving his first saxophone, an alto, when he was 13, Payne began gigging in local New York City groups. He made his record debut for Savoy in support of trombonist J. J. Johnson. Read more...