Fairytale Countryside

– Fritz Pauer

Not as simple as the title implies, this song takes more of an impressionistic approach to its subject. Quintet arrangement with first and second parts available.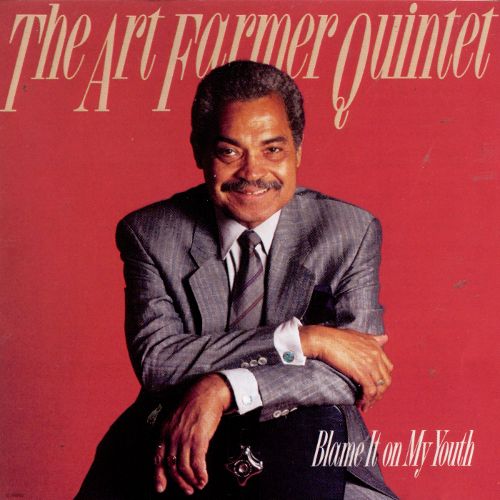 All selected items will be available for download after purchase.
Recording:

Art Farmer - Blame It On My Youth

Recorded on:

February 4 & 8, 1988

Label:

Contemporary (C 14042)

Concert Key:

B-flat minor

Vocal Range:

, to

Style:

Even 8ths 5/4 (medium)
Flugelhorn - Art Farmer
Soprano Sax - Clifford Jordan
Piano - James Williams
Bass - Rufus Reid
Drums - Victor Lewis
Though 5/4 may not be an obvious meter for a song with "fairytale" in the title, this song evokes an idyllic landscape in a unique and evocative way. The piano ostinato, with its harmonies based on thirds with seconds, lays down a texture that is both steady and open-ended. The melody floats on top, with dynamic fluctuations like hills and valleys. (The dynamic for the last melodic phrase of letter B is marked simply "louder" because, though it is louder than the previous phrase marked f, it should not be as intense as ff would imply.) The form, used for solos as well as the head, is uneven: a 10-measure A section, followed by a B section that is eight measures long but divided into phrases of three-, two-, and three-measures. The C section is eight measures; a four-measure vamp interlude precedes each solo. The coda repeats the last melody phrase in a break.

The lead sheets are used as first parts in the quintet arrangement. The Concert Condensed Score would be great for rhythm section players.
Though Fritz Pauer is not present on this recording, the Art Farmer album immediately preceding "Blame It On My Youth" was a duo album with Pauer: "
Azure
" (see
Sound Within An Empty Room)
, recorded in Vienna the previous summer. Farmer's working quintet had included Clifford Jordan since the mid-'70s; the personnel heard here is similar to that of the 1987 album "Something To Live For" and the 1989 album "Ph.D." with pianist
James Williams
. Both of these latter albums feature Marvin "Smitty" Smith on drums instead of
Victor Lewis
; the latter adds
Kenny Burrell
on guitar.
Vocalist Vanessa Rubin and Fritz Pauer together added a lyric to the song and gave the lyric version a new title, "Like An Old Song." Listen to a clip of lyricist Vanessa Rubin's version
CLIP
; and Denise Donatelli's performance of
Geoffrey Keezer
's arrangement
CLIP
.
Solo Piano Arrangement
The four-page Solo Piano Arrangement by Fritz Pauer has it all—ostinato, bass line, melody, and even the second harmony part. In some places the melody or "second part" notes are not held as long as they are in the quintet version, as the same notes are part of the ostinato. The real challenge of this arrangement is making sure the melody is in the foreground, in front of the busy ostinato and bass line. The coda is based on the original coda, with some ornamental high-register runs.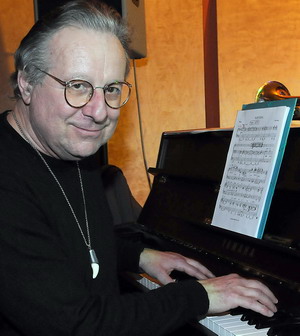 October 14, 1943 – July 1, 2012
Born in Vienna, Austria, acclaimed European pianist and composer Fritz Pauer began his career in the early 1960s, making his first recording (at age 19) with the Hans Koller quartet in 1962. He moved to Berlin, Germany, 1964-68, and played at Dug's Night Club & Jazzgalery as accompanist for Herb Geller, Johnny Griffin, Don Byas, Booker Ervin, Dexter Gordon, Leo Wright, Carmell Jones, Pony Poindexter, Jimmy Woode and vocalist Annie Ross, recording with many of them. Read more...