Don't Lose The Blues

– Freddie Redd

A 28-measure blues variation that combines a funky Latin groove with some of Redd's signature harmonic subtleties. It's been recorded both in a trio setting and with horns.
All selected items will be available for download after purchase.
Recording:

Freddie Redd - Live At The Studio Grill

Recorded on:

May 19-26, 1988

Label:

Triloka (320182-2)

Concert Key:

F

Vocal Range:

, to

Style:

Latin (Funky)
Piano - Freddie Redd
Bass - Al McKibbon
Drums - Billy Higgins
This song begins simply, seemingly a classic funky hard-bop blues. But when it comes to Freddie Redd, things aren't always what they seem! The first eight measures riff on a simple pentatonic theme, alternating F7 and G♭7 before a two-measure "walk up" to B♭. The second eight measures are almost the exact same a fourth higher—except B♭7 is alternated with D♭7, not the expected B7. The C section or "turnaround" goes through a series of hits and stop-time figures, in a circle of fourths from A7 to E♭m7 and then chromatically descending to two measures of D♭maj7 and two of C7. This section, which uses classic Redd vocabulary with a lot of ninths and sharp fifths in the melody, is 12 measures long resulting in a 28-measure cyclical form. The harmonic sophistication doesn't distract from the funky groove.

This trio recording is a drum feature for Billy Higgins. He plays a 16-measure intro (not included in the clip above) before the head, which is played once in and once out. Freddie plays some of the rhythms of the head slightly differently from how they are notated in the lead sheet. There is an eight-measure drum solo interlude before the piano solo, starting on the last measure of the head. After the out head, Billy solos for eight measures and then the last four measures of the head are played again. Billy then solos for about 24 measures (going slightly out of time) before one more repeat of the last four measures. The rest of the track is drum solo, with the piano and bass not coming in at the end. Billy ends with the hits from the last two measures of the head.

Lead sheets under each album cover are identical.
This
live album
, recorded in Hollywood, California, was the first Redd recording since 1985. Bebop stalwart bassist Al McKibbon and the versatile drummer
Billy Higgins
had not recorded together before, but they later recorded with vocalist Stephanie Haynes (with Cedar Walton on piano) and saxophonist Robert Stewart.
All selected items will be available for download after purchase.
Recording:

Freddie Redd - And His International Jazz Connection

Recorded on:

July, 1991

Label:

Fairplay (1)

Concert Key:

A-flat, F

Vocal Range:

, to

Style:

Latin (Funky)
Trumpet - Maffy Falay
Tenor Sax - Krister Andersson, Bernt Rosengren
Guitar - Anders Ullberg
Piano - Freddie Redd
Bass - Torbjorn Hultcrantz
Drums - Gilbert Matthews or Bengt Stark
This three-horn version has a more straightforward form than the original trio recording. There is an eight-measure vamp intro (not heard on the clip above), starting with solo piano and adding bass and drums after four measures. The horns start playing the melody in unison, breaking into harmony from the seventh measure onward. At some points (such as the seventh and eighth measures) they play two-part harmony with one or the other tenor sax unison with the trumpet melody; elsewhere they have three-part harmony. The head is played twice in and once out. There are no interludes or drum solo exchanges.
For more from this
session
, check out
And Time Marches On
. Freddie's return to Sweden, where he had visited in 1956, produced this album which was to be the last recording he made until 2014.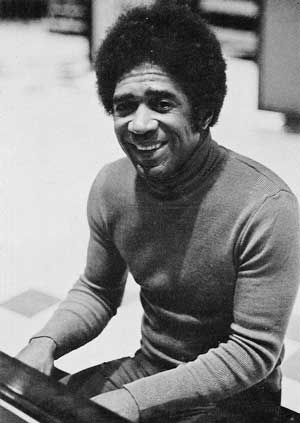 May 29, 1928 – March 17, 2021
Pianist Freddie Redd, best known for his role as composer and actor in the play and movie "The Connection," started playing the piano when he was in the Army. Mostly self-taught, he learned while performing in clubs with other musicians. According to Nat Hentoff's liner notes to "Shades Of Redd," Freddie says he's "been influenced by many things I've heard on a lot of instruments. What I do is try to piece together what stimulates me into my own way of feeling things musically." Redd's music is simultaneously optimistic and knowing—it makes you want to play along with it, to join in the experience. Read more...