Steve Allee
| | |
| --- | --- |
| Instrument | piano |
| Birthplace | Indianapolis, IN |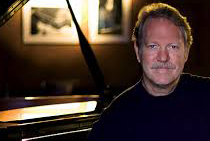 Pianist, composer and arranger Steve Allee is a veteran of more than 35 years on the music scene, working principally in jazz, writing and performing for syndicated radio programs, network television and motion pictures, and as a music educator.
As a pianist and composer, you can tell his sparkling clarity and inventiveness comes from his love, appreciation and understanding of great pianist/composers from earlier generations such as Bill Evans, Horace Silver, and his exposure and involvement with one of his hometown heroes, Buddy Montgomery. Another hometown mentor, whom Steve will be helping us talk about in detail, is pianist Claude Sifferlen. Steve also brought jazzleadsheets.com another incredible pianist/composer, Steve Corn.
All of his career facets have blended into a distinct musical style that has a very strong visual, almost cinematic flavor because of his skill in capturing or reinforcing moods or visual elements that inspire his projects.
Steve has released six CDs as a leader, the two most recent being his trio recordings, "Dragonfly" (June 2008) and "Colors" (April 2007) are artful collaborations with bassist Bill Moring and drummer Tim Horner. Saxophonists Rich Perry and Rob Dixon appear on select tracks.
Steve has performed with Buddy Rich, Slide Hampton, James Moody, Randy Brecker, Steve Houghton, Curtis Fuller, Benny Golson, Sonny Fortune and has opened for Bill Evans and Tony Bennett. He performed on Rufus Reid's big band album, "Quiet Pride" which was nominated for a Grammy Award in 2015, and is a member of Rufus' trio.
Steve's big band CD, "Downtown Blues," with bassist John Clayton and drummer John VonOhlen, was nominated for a Grammy® award. Allee's first national solo CD, "The Magic Hour," released on Noteworthy Records, landed at No. 14 on the Gavin national radio poll.
His other musical accomplishments included being commissioned to write and conduct a four-movement work for the Indianapolis Symphony Orchestra to celebrate the 100th anniversary of The Indianapolis Museum of Art. His score for the film, "New York in the Fifties," was performed live at Switzerland's acclaimed Montreux Jazz Festival. Among the many highlights in his illustrious career, Steve was co-director and arranger for a J.J. Johnson Tribute Concert featuring trombonist Slide Hampton at the Indy Jazz Fest in 2001.
As an educator, Steve is on the Jazz Faculty as an Assistant Professor at the Cincinnati Conservatory of Music at the University of Cincinnati. See more at his website, SteveAllee.com.