Eddie Higgins
February 21, 1932 – August 31, 2009
| | |
| --- | --- |
| Instrument | piano |
| Birthplace | Cambridge, MA |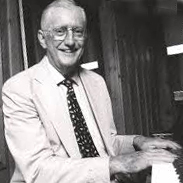 A highly regarded pianist and composer, Eddie Higgins's career spanned over 50 years. Born in Cambridge, MA, Eddie learned piano from his mother. He began his professional career in Chicago while studying at Northwestern University's music school. Eddie worked in many of Chicago's top jazz clubs, like the Brass Rail, Preview Lounge, Blue Note, Cloister Inn and Jazz Ltd,, but his longest affiliation was with the London House, where he led the house trio from 1957-1969.
During his tenure at the London House, Eddie played behind luminaries like Cannonball Adderley, Bill Evans, Erroll Garner, Stan Getz, Dizzy Gillespie, Oscar Peterson and George Shearing. He also recorded alongside the likes of Coleman Hawkins, Wayne Shorter, Al Grey, Freddie Hubbard, Sonny Stitt and many others.
In 1970, he began to split his time between Fort Lauderdale and Cape Cod, MA. He loved sailing and tried to be where he could continue that activity. From the early 1980s, he traveled widely on the jazz festival circuit and performed frequently in Europe and Japan. His releases on the Japanese Venus label earned him number one in jazz sales on more than one album.
In 1988 he married vocalist/lyricist/composer Meredith d'Ambrosio. The pair became a popular duo at festivals and recorded together for Sunnyside Records. Over the course of his career, Eddie recorded over 40 sessions as a leader for US and Japanese labels.