Claude Sifferlen
August 29, 1940 – March 18, 2010
| | |
| --- | --- |
| Instrument | piano |
| Birthplace | Indianapolis, IN |
Available Leadsheets
Zebra #1

- Claude Sifferlen

Even 8ths (medium up)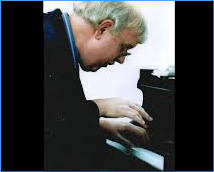 Inventive composer and pianist Claude Sifferlen was a mainstay in the Indianapolis jazz scene who taught and inspired many Indianapolis players.
Sifferlen began learning piano at age three; he took up jazz after hearing Fats Waller records. He also studied violin in his youth. His professional career started in 1967, when he performed with the Woody Herman band on the road. He also played three nights with Duke Ellington's band that same year. In 1971, he briefly filled in for Stan Kenton on the road when Kenton was ill. During the 1970s, Claude Sifferlen played with Steve Lawrence, Edie Gorme, Buddy Tate, Cleanhead Vinson, Eddie "Lockjaw" Davis, Milt Jackson, and Richard Davis.
Ever humble, Sifferlen preferred the local Indianapolis scene, and the in the 1980s focused on performing locally. There, he began a 25-year collaboration with saxophonist Frank Glover; this duo was the subject of a 2010 documentary titled Take 2. Claude founded the Zebra Quartet with Steve Allee and Steve Corn and led the Claude Sifferlen trio with bassist Paul Imm and drummer Greg Corn (brother of Steve). In 1992, Sifferlen played at the 14th Annual Chicago Jazz Festival; four years later, he performed at Carnegie Hall with Frank Glover. In 2004, he was inducted into the Indy Jazz Hall of Fame.