Bebop Irishman

– Ray Bryant

A fun chart that mixes Irish jigs, classic Americana, and of course lots of bebop. Jo Jones's drum transcription also available.
All selected items will be available for download after purchase.
Recording:

Jo Jones - Jo Jones Trio

Recorded on:

March, 1959

Label:

Everest (LPBR 5023)

Concert Key:

F

Vocal Range:

, to

Style:

Swing (medium up)
Piano - Ray Bryant
Bass - Tommy Bryant
Drums - Jo Jones
The title of this fun head reflects its jig-like pace. The melody is composed of long, quick-moving lines that infuse bebop chromatics with a simple harmonic progression that evokes classic Americana. The result is a mash-up of different cultures and styles that make
Bebop Irishman
just as much of a delight for musicians as listeners.
See the George Shearing recording (above, right) for
Dick Garcia
's guitar part (very similar to this recording).
Jo Jones was the first drummer to record Ray's
Bebop Irishman,
on this
trio date
. A little less than a year later (April 28, 1960) George Shearing recorded it with Larance Marable on drums. In January, 1961, Buddy Rich recorded it on one of his small group sessions for Argo, arranged by Ernie Wilkins ("
The Be-Bop Irishman
"). Ray Bryant recorded it again in a trio context with his brother Tommy Bryant on bass on June 14, 1963, for the Sue label, this time with drummer Bobby Donaldson.
Ray's
Philadelphia Bound
from the Jo Jones album, plus his solo piano arrangement on that title, are also available.
A five-page in-depth drum transcription of "Papa" Jo Jones
drum
playing brushes on Ray Bryant's
Bebop Irishman
.
-- eight-bar drum introduction
-- time playing over in head (melody written above drum staff)
-- piano and drums trading fours (1 chorus, 32 bars)
-- time playing over the out head (melody above drum staff)
Any great jazz drummer will tell you that "Papa" Jo Jones helped write the book on playing brushes, but countless well-known jazz drummers cite this recording as their bible of brush playing. This recording is particularly great because you can hear the articulation of his brushes very clearly, plus his feeling is so strong. The tempo is extremely fast, but Jones plays it with relaxed ease, and his band follows his lead.
As you work through this transcription, try to emulate Jones' sound on the drum; the dynamics and "touch" of his accents. This transcription also showcases his drum soloing talents and shows why his style of playing would become so influential on the drummers who came after him.
All selected items will be available for download after purchase.
Recording:

George Shearing - San Francisco Scene

Recorded on:

April 28, 1960

Label:

Capitol (T 1715)

Concert Key:

F

Vocal Range:

, to

Style:

Swing (medium up)
Vibes - Warren Chiasson
Guitar - Dick Garcia
Piano - George Shearing
Bass - Wyatt Ruther
Drums - Larance Marable
This live version of Bebop Irishman by George Shearing's quintet is relatively close to the Jo Jones trio recording. The melody is played with the classic Shearing sound of unison vibes, guitar, and piano, with the guitar playing an octave lower at the D section. The drums tacet at the beginning, coming in (brushes) at the bridge and again at D. Unlike Jones' version, the bass walks on both these sections. The hits in the bridge are slightly different. On this recording, a shout chorus replaces the out head.

You can use the lead sheets from the Jo Jones recording; only the Guitar lead sheet is specific to this recording.
The album which this version of
Bebop Irishman
is from, "
San Francisco Scene
" by the George Shearing Quintet, was recorded live at San Francisco's Masonic Auditorium on April 28, 1960. It is especially notable for being one of the only recordings that legendary West Coast drummer Larance Marable made with any of the other members of the quintet—Marable played on just two other Shearing albums (with similar lineups), "Satin Brass" and "The Shearing Sound."
"San Francisco Scene" was guitarist
Dick Garcia
's third live recording with Shearing's quintet. Garcia played with Shearing in the summer and fall of 1952 and then from mid-1959 to early 1961, when he was replaced in Shearing's quintet by
Wes Montgomery
.
For more Shearing versions of Ray Bryant songs, check out
18th Century Ballroom
,
Bel Aire
, and
Pawn Ticket
—more coming soon!
Dick Garcia
's role in this recording is a demanding one, requiring him to phrase Ray Bryant's finger-twister of a melody in complete lock-step with pianist George Shearing and vibraphonist Warren Chiasson and find a way to blend the sound of the guitar with these percussive, keyboard sonorities. Garcia handily steps up to the occasion, showcasing his deft command of left-hand and right-hand articulative techniques as he goes note-for-note with the rest of the frontline.
Additionally, while the guitar chair in Shearing's band during this era rarely saw more than a half-chorus of solo space per song, Garcia takes full advantage of his 16 measures, weaving through a fluid blend of bebop and blues language that reminds the listener why he had recorded with the likes of Shearing and Charlie Parker from the time he was only 21 years old.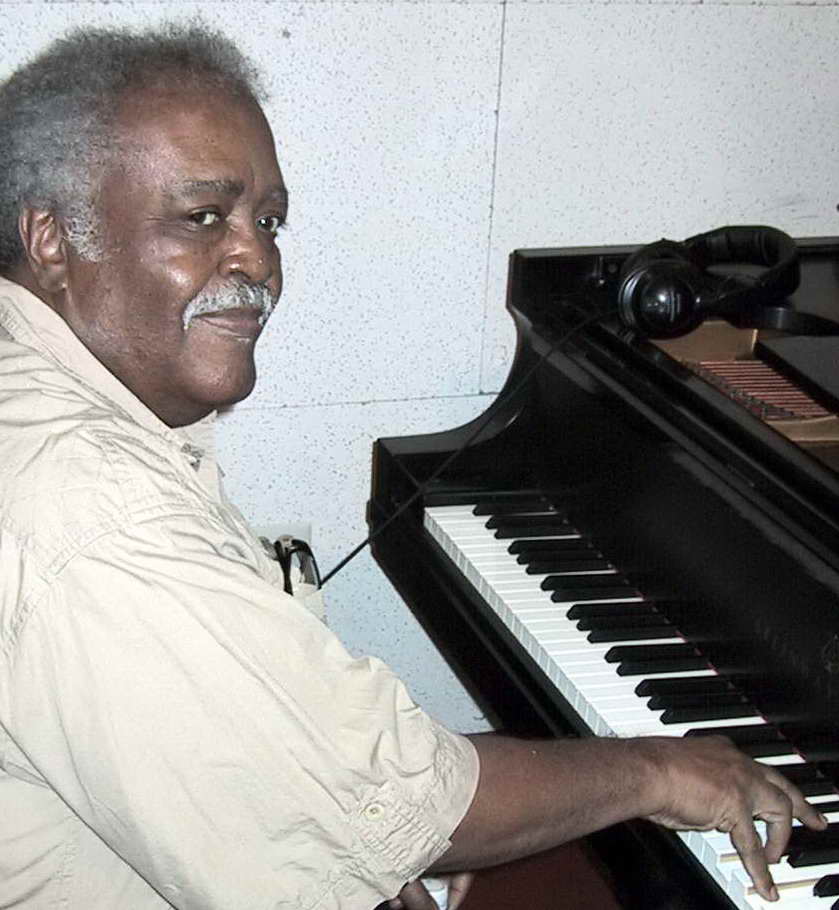 December 24, 1931 – June 2, 2011
Following performances in his native Philadelphia with guitarist Tiny Grimes and as house pianist at the Blue Note Club with Charlie Parker, Lester Young, Miles Davis and others, Ray Bryant came to New York in the mid-1950s. His first jazz recording session in New York was with Toots Thielemans (August, 1955) for Columbia Records. That session led to his own trio sessions as well as sessions with vocalist Betty Carter for Epic Records in May and June ("Meet Betty Carter and Ray Bryant"). On August 5, 1955, Ray recorded with Miles Davis, and on December 2, 1955, with Sonny Rollins, both for Prestige Records. Read more...