Oran "Hot Lips" Page
January 27, 1908 – November 5, 1954
| | |
| --- | --- |
| Instrument | voice |
| Birthplace | Dallas TX |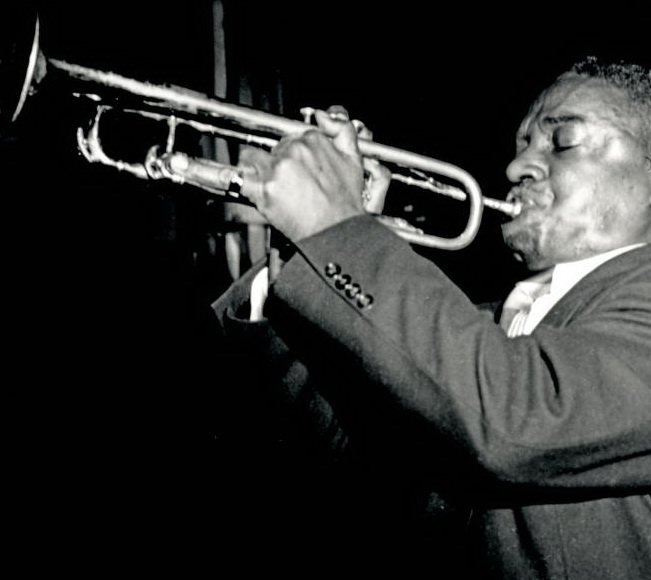 Oran "Hot Lips" Page is remembered as one of the most exciting soloists of the swing era. His trumpet and vocal styles were both strongly influenced by Louis Armstrong, but with plenty of his own personal flair. He is particularly associated with the Kansas City scene of the early to mid-1930s.
Page began his career in his teens, playing in several Texas territory bands. In the late '20s, he joined bassist (no relation) Walter Page's Blue Devils, the legendary Kansas City band that became Bennie Moten's band—and later Count Basie's. Hot Lips played on the Moten band's seminal recording session of December 13, 1932, soloing on Moten Swing, Toby, and several other classic arrangements. Though he occasionally appeared as a guest soloist with the new Basie band that formed after Moten died in 1935, Hot Lips was never a regular member of Basie's band. In 1936 he moved to New York to pursue a solo career.
For the rest of his life, Hot Lips was largely a freelance soloist, fronting various combos and big bands and making the occasional sideman appearance. He was a regular at many jam sessions, including the legendary Minton's Playhouse sessions that contributed much to the origin of bebop. Some of these were recorded in 1941, and they show Hot Lips holding his own alongside Thelonious Monk, Charlie Christian, Kenny Clarke, and other forward-thinking players. Other leaders Hot Lips recorded and performed with through the late 1930s and '40s include Chu Berry, Artie Shaw, Eddie Condon, Billie Holiday, Fats Waller, and Albert Ammons .
With their simple, direct, blues-infused style and often humorous vocals, Hot Lips' small group recordings are a classic example of jump blues, the style at the intersection of swing and rhythm & blues. Though he never deserted his foundation in blues and swing traditions, Hot Lips certainly kept his music up to date. Several of his recordings in the mid- to late '40s show subtle bebop influences; his 1940 Harlem Rhumbain' The Blues was one of the very earliest Latin jazz recordings, contemporary with Mario Bauza and Machito's founding of Machito and his Afro-Cubans. The sidemen on Hot Lips' recording sessions included several players primarily associated with bebop, including members of Dizzy Gillespie's and Billy Eckstine's big bands. One of these sessions, on March 8, 1944, was tenor saxophonist Lucky Thompson's very first recording; pianist Hank Jones also made his recording debut with Page (and Thompson), on November 30 of the same year.