Dexter Gordon
February 27, 1923 – April 25, 1990
| | |
| --- | --- |
| Instrument | tenor sax |
| Birthplace | Los Angeles, CA |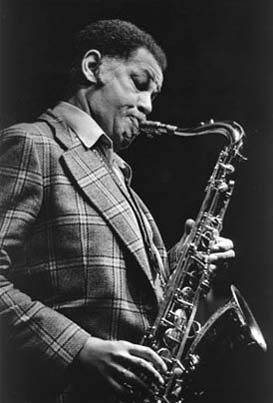 Tenor saxophonist Dexter Gordon was born in Los Angeles, CA. In his last year of high school, he received a call from alto saxophonist Marshall Royal asking him to join the Lionel Hampton big band. This led to Dexter's first recording, with the Hampton band, on December 21, 1941. In 1944, after a few weeks with the Fletcher Henderson Orchestra and working and recording with Louis Armstrong's orchestra, Dexter joined Billy Eckstine and recorded with Eckstine's legendary band of soon-to-be jazz superstars that included Dizzy Gillespie, Sonny Stitt, Gene Ammons, Leo Parker, Art Blakey, Sarah Vaughan, arranger Tadd Dameron and others, on September 5, 1944.
Dexter influenced many young tenor players when he started recording as a leader for Savoy in 1945. In 1947, Dexter recorded his historic sides for Dial Records, including the two tenor duel, "The Chase," with tenor saxophonist Wardell Gray. "The Chase" became the biggest seller for Dial and further established Dexter as a leader and a recording artist.
In 1960, Dexter was approached by Alfred Lion to sign with Blue Note Records, and for the next five years he made one classic session after another.
In the mid 1960s Dexter also worked a lot in Europe, eventually settling in Copenhagen where he lived until his return to the US in 1976. He enjoyed a hero's welcome home, and soon signed with Columbia Records. In 1986, Dexter added another dimension to his career, acting a major role in the motion picture Round Midnight, directed by Bertrand Tavernier. Dexter was nominated for an Academy Award for Best Leading Actor for his portrayal of Dale Turner, a character based on the lives of Lester Young and Bud Powell.