David Hazeltine
| | |
| --- | --- |
| Instrument | piano |
| Birthplace | Milwaukee, WI |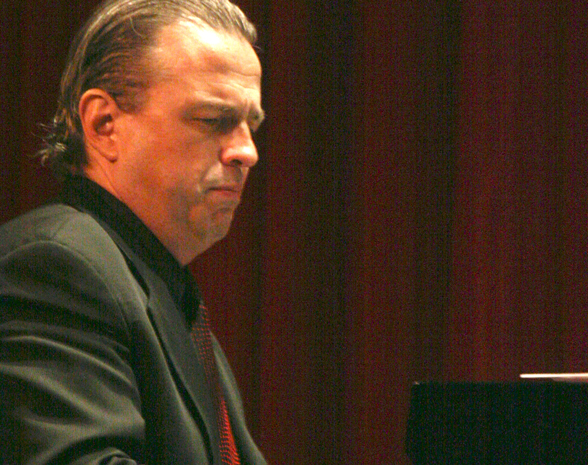 Heralded by pianist Cedar Walton as the "brightest star on jazz piano's horizon," David Hazeltine is considered to be one of jazz's premier pianists as well as composer-arrangers. With a mantra to "swing as much as humanly possible," David's style is infused with influences of Art Tatum, Bud Powell, Buddy Montgomery, Barry Harris and Cedar Walton while still retaining his own fiercely individual voice. Hailing from Milwaukee, David made his professional debut on the organ when he was just thirteen years old.
At fifteen, he switched to the piano. Through his teen years, he gigged extensively in the area as well as in Chicago and Minneapolis. Nevertheless, he very nearly chose to attend college to be an electrical engineer -- it was only at the last minute that he changed his mind in favor of music. At twenty-one, he became the house pianist at Milwaukee's Jazz Gallery, where he played for some of the most important names in jazz as they passed through: Sonny Stitt, Pepper Adams, Chet Baker, Charles McPherson, Al Cohn, Lou Donaldson, and Eddie Harris. This early job established David's chops as an accompanist and earned him the respect of the stars -- in fact, it was Chet Baker who encouraged David to move to New York. The young pianist took heed and in 1981, David made a first go at a career in the city. He returned home two years later and turned to teaching for a brief period, but returned to New York permanently in 1992.
David's breakthrough came when he was hired by Marlena Shaw, for whom he still serves as pianist and musical director. After that, his star continued to rise: Slide Hampton heard him with the singer and he too was drawn in by the pianist's swinging sensibility. Since then, David has played with Freddie Hubbard, James Moody, the Faddis-Hampton-Heath Sextet, and the Carnegie Hall Jazz Band. He also has his own trio with Louis Hayes and Peter Washington. Since 1997, David has been a member of One For All, the prestigious hard-bop group consisting of Jim Rotondi, Eric Alexander, Joe Farnsworth, Steve Davis, John Webber, and, of course, David on piano. With the band, he has recorded fifteen albums that have been enormously well-received. And that's not to mention all of his own releases as a leader: 23 to date since his debut in 1996.
In addition, David also holds a position on the piano faculty at S.U.N.Y. Purchase, continuing his commitment to bring jazz to new generations and to advance awareness of jazz culture.