Bobby Timmons
December 19, 1935 – March 1, 1974
| | |
| --- | --- |
| Instrument | piano |
| Birthplace | Philadelphia, PA |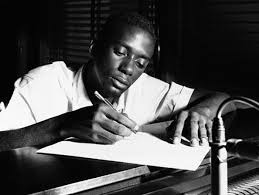 A beloved pianist with one of the most easily recognizable styles, Bobby Timmons is responsible not only for bringing his unique gospel-tinged voice to the piano, but also for his funky compositional masterpieces that have become jazz standards, like Moanin' and This Here ('Dis Here). These two are by no means the only memorable original works of Bobby's—nearly all of his works are instantly recognizable as a Bobby Timmons original, as they all have his signature style of soul, funk, and gospel, all while still maintaining the hallmarks of true hard-bop jazz.
Born in Philadelphia to a religious family, Bobby studied piano with his uncle, who also taught McCoy Tyner. He moved to New York at age 20 to start his recording career with Kenny Dorham's Jazz Prophets. He then went to Los Angeles, where he recorded with Chet Baker, and others, before returning to New York to record sessions with Hank Mobley; Sonny Stitt; Curtis Fuller; Maynard Ferguson; a co-led date with John Jenkins, Clifford Jordan and himself; Lee Morgan; Anthony Ortega; Pepper Adams and Kenny Burrell. On October 30, 1958, then only 22 years old, he recorded with Art Blakey and the Jazz Messengers producing his first big hit, Moanin'. He only had to wait a little less than a year to record his second big hit This Here (Dis' Here), this time as a member of the Cannonball Adderley Quintet.
In 1960, Bobby released his first album as a leader, "This Here Is Bobby Timmons," for Riverside, on which he was accompanied by Sam Jones on bass and Jimmy Cobb on drums. He continued to play with the Jazz Messengers at this time and joined them on critical releases like "A Night In Tunisia" (one of the first to feature Wayne Shorter) in 1960. He played with the Messengers until July of 1961.
Bobby's output declined in the 1960s due to health problems, from which he ultimately passed in 1974. Yet he still managed to release an prolific catalog in his twelve year career that rivals many with longer careers and is credited with the birth of "soul jazz," his signature mix of gospel, soul, and funk. Despite the non-jazz influences on his playing, Bobby always maintained a true virtuosity in his improvisation as well and never strayed too far from hard-bop -- a fact that was often overlooked at the time but few can deny today.