Easy Does It

– Bobby Timmons

A Bobby Timmons funk classic. Bobby's piano solo transcription also available.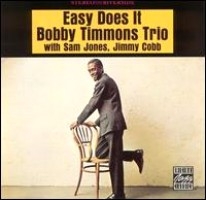 All selected items will be available for download after purchase.
Recording:

Bobby Timmons - Easy Does It

Recorded on:

March 13, 1961

Label:

Riverside (RLP 363)

Concert Key:

D minor

Vocal Range:

, to

Style:

Latin/swing (uptempo)
Piano - Bobby Timmons
Bass - Sam Jones
Drums - Jimmy Cobb
Bobby Timmons loved to play funky and he created many funk classics. Easy Does It is the title tune and a great opening track for the original album release. Our audio excerpt starts with the melody. The complete track starts with 16 measures of drums alone, playing a two-measure figure. The bass enters with a four-measure figure for 16 more bars, setting up the melody on piano. All of this is clearly notated in the C treble clef lead sheet, including the bass line under the melody and the ending used on the recording.

Easy Does It is essentially a 16-measure repeating melody, but we've written out the melody repeat to capture Timmons' interesting variations the second time around. You'll hear more variations in the out chorus. After the melody, the solos swing, as you'll hear in our Bobby Timmons solo excerpt. This one is definitely a lot of fun, and it doesn't have to be fun for just a rhythm section.

This composition comes from Bobby Timmons'
third session
as a leader in one of his favorite formats: the trio. Sidemen Sam Jones and Jimmy Cobb were on Bobby's first session as a leader, just a little over a year earlier (also a trio session). In December 1960, Bobby was in Europe with Art Blakey And The Jazz Messengers. The band started 1961 in Japan, but by February the Messengers were back in the US, doing two more sessions for Blue Note on February 12 and 18. Bobby's trio session for Riverside was in March, followed the next day by another Jazz Messengers' Blue Note session.
Transcribed Piano Solo: The piano solo audio clip piano begins two measures before the start of Bobby's first solo chorus so you can hear the trio's great transition from Latin to swing. Bobby starts right out cookin' and continues to cook for six choruses!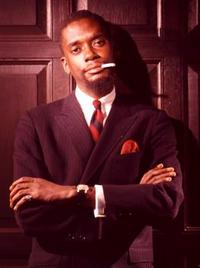 December 19, 1935 – March 1, 1974
A beloved pianist with one of the most easily recognizable styles, Bobby Timmons is responsible not only for bringing his unique gospel-tinged voice to the piano, but also for his funky compositional masterpieces that have become jazz standards, like Moanin' and This Here (Dis Here). These two are by no means the only memorable original works of Bobby's—nearly all of his works are instantly recognizable as Bobby Timmons originals, as they all have his signature style of soul, funk, and gospel, while maintaining the hallmarks of true hard-bop jazz. Born in Philadelphia to a religious family, Bobby studied piano with his uncle, who also taught McCoy Tyner. He moved to New York at age 20 to start his recording career with Kenny Dorham's Jazz Prophets. Read more...