Stairway To The Steinway

– Freddie Redd

A bop workout! The melody line just keeps on going, connecting the changes in unexpected ways.

All selected items will be available for download after purchase.
Recording:

Joe Roland - Easy Living

Recorded on:

March 17 & 18, 1955

Label:

Bethlehem (BCP 17)

Concert Key:

E-flat

Vocal Range:

, to

Style:

Swing (medium up)
Vibes - Joe Roland
Piano - Freddie Redd
Guitar - Dick Garcia
Bass - Danny Martucci
Drums - Ron Jefferson
This delightful hard-bop head is peppy, upbeat and just enough of a challenge to really be fun. The melody, comprised almost entirely of eighth notes, winds through II-V progressions alternating between E-flat and F. The constant chromaticism keeps the progressions from ever feeling stale; the slight rhythmic variation on the B section also keeps the melody fresh. You may find that Stairway To The Steinway makes a good warm-up since it really works the dexterity of any instrumentalist—that, and it's just so much fun to play.
This session was recorded by Rudy Van Gelder at his Hackensack studio in March of 1955. This date was for vibraphonist Joe Roland's album "
Easy Living
;" this release turned out to be Joe's last as a leader and he soon faded into obscurity despite his talents. Freddie, on the other hand, was heading towards the peak of his fame, which would come four years later when he composed music for the play
The Connection
(by Jack Gelber) in 1959 and the subsequent movie of the same name in 1960.
For those looking to get the winding and serpentine language of bebop under their fingers, Freddie Redd's
Stairway to the Steinway
provides a wealth of information. The complexity of this finger-twisting line and its lively tempo, however, can prove intimidating for those looking to master it. But, as this video performance by guitarist Joe Fruend displays, you can overcome any such difficulty with an effective practice regimen such as the one demonstrated. By playing with the original recording (featuring guitarist
Dick Garcia
), you can assimilate the subtleties of phrasing, and by using an audio editing software such as GarageBand, you can play with the original recording at any speed (this process is outlined in our video performances of Chuck Wayne's
Slightly Dizzy
and Ray Bryant's
Bel Aire
). So, come see Freund's hands as he sails through this tricky melody at various speeds, and learn how to reach such a level yourself.
Both Joe Roland (vibes, leader) and guitarist Dick Garcia are alumni of the George Shearing Quintet, so this Joe Roland recording session gave pianist Freddie Redd a great opportunity to create this gem in the Shearing style.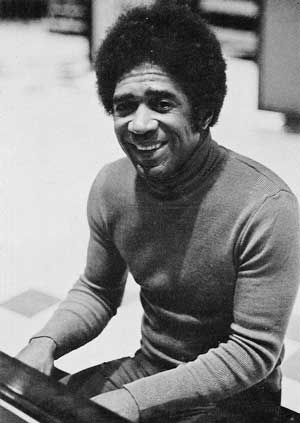 May 29, 1928 – March 17, 2021
Pianist Freddie Redd, best known for his role as composer and actor in the play and movie "The Connection," started playing the piano when he was in the Army. Mostly self-taught, he learned while performing in clubs with other musicians. According to Nat Hentoff's liner notes to "Shades Of Redd," Freddie says he's "been influenced by many things I've heard on a lot of instruments. What I do is try to piece together what stimulates me into my own way of feeling things musically." Redd's music is simultaneously optimistic and knowing—it makes you want to play along with it, to join in the experience. Read more...