Prevue

– Paul Quinichette

A very simple and catchy swinger! Paul Quinichette's solo on the original recording is available.
All selected items will be available for download after purchase.
Recording:

Paul Quinichette - The Vice "Pres"

Recorded on:

October 5, 1951

Label:

EmArcy (MG 36027)

Concert Key:

D-flat

Vocal Range:

, to

Style:

Swing (medium)
Tenor Sax - Paul Quinichette
Guitar - Freddie Green
Piano - Kenny Drew
Organ - Bill Doggett
Bass - Jimmy Lewis
Drums - Gus Johnson
Like most of Quinichette's songs, this is a very simple "riff" head. The changes are closely related to Take The A Train. In this case the riff, which is based on alternating stepwise motion, extends into the bridge as a different variation. Ella Fitzgerald's later version has a different melody on the bridge.

A transcription of Quinichette's tenor sax solo is available; see the Solos tab.
This is Paul Quinichette's best-known composition. He arranged it for the Count Basie band, which he played in from 1951 to '53. Though the Basie band did not do a studio recording of it, there are two recordings from live radio broadcasts in 1953. Ella Fitzgerald also recorded it in '52 (click the next album cover for details).
The original 1951 Quinichette recording features
Kenny Drew
on piano; 23 years old at the time, Drew had already recorded two of his own compositions,
Fuguetta
and
Donnellon Square
, with Howard McGhee over a year earlier.
Paul Quinichette's Tenor Sax Solo
Quinichette solos for one chorus after the in head
clip
, and after the organ and piano split a chorus he plays one more chorus of solo, returning to the melody at C. All this is notated in the transcription.
Though he was nicknamed "Vice Pres" for his similarity of playing to Lester Young ("Pres"), Paul Quinichette had a sound all his own, subtly different from others influenced by Young. The main distinguishing feature of the Quinichette sound is the articulation. At times (for example, the beginning of this solo) his tonguing is quite hard, with a very well-defined beginning and end of the notes. However, he uses a much softer tonguing in the last few measures of his first solo chorus and for repeated notes in general. Though it would be difficult to prove this, it often sounds like he is tonguing against the roof of his mouth instead of against the reed.
Quinichette also had a unique way of controlling dynamic contrasts and accents. As he played, he occasionally adjusted the position of the horn in relation to his mouth, with subtle motions that changed the accent and volume of individual notes. This could have also affected the sixteenth-note embellishments he often used, as heard here, for example, in the fifth measure of A2 in his first chorus. The upper note in these ornaments is frequently sharp in intonation; it is not a smooth, vibrato-like embellishment. The combination of all this varied articulation with his simple melodic vocabulary and dark, mellow timbre gives Quinichette's improvisation an intense, passionate quality, as if he cannot help but cry into his saxophone—even more so than Lester Young.
All selected items will be available for download after purchase.
Recording:

Ella Fitzgerald - Smooth Sailing

Recorded on:

June 26, 1952

Label:

Decca (DL 4887)

Concert Key:

D-flat

Vocal Range:

Mezzo Soprano, B-flat3 to C5

Style:

Swing (medium)
Vocal - Ella Fitzgerald
Tenor Sax - Sam "The Man" Taylor
Guitar - Everett Barksdale
Piano - Hank Jones
Bass - Sandy Block
Drums - Jimmy Crawford
This version of
Prevue
features an entirely wordless (scat) vocal by Ella Fitzgerald. The melody is articulated slightly differently from Quinichette's original recording, with the second, fourth and sixth measures of the A sections having the D-flat on beat 2 instead of the "and" of 1. The bridge melody is different from the original but only a slight variation. On this recording, the tenor sax harmonizes with the voice on the A sections, mostly down a third. There is a very slick rhythm section intro, which is fully notated in the C treble clef lead sheet.
This piece is a great choice for vocalists who want to work on phrasing like a horn. Notice Ella's ornamental turns on the second, fourth and sixth measures and her "ghost" notes on the bridge. We've marked Ella's articulations on the C lead sheet (Fitzgerald version) so vocalists can learn Ella's impeccable phrasing.
On the 45 rpm release, the title was shown as
Preview
.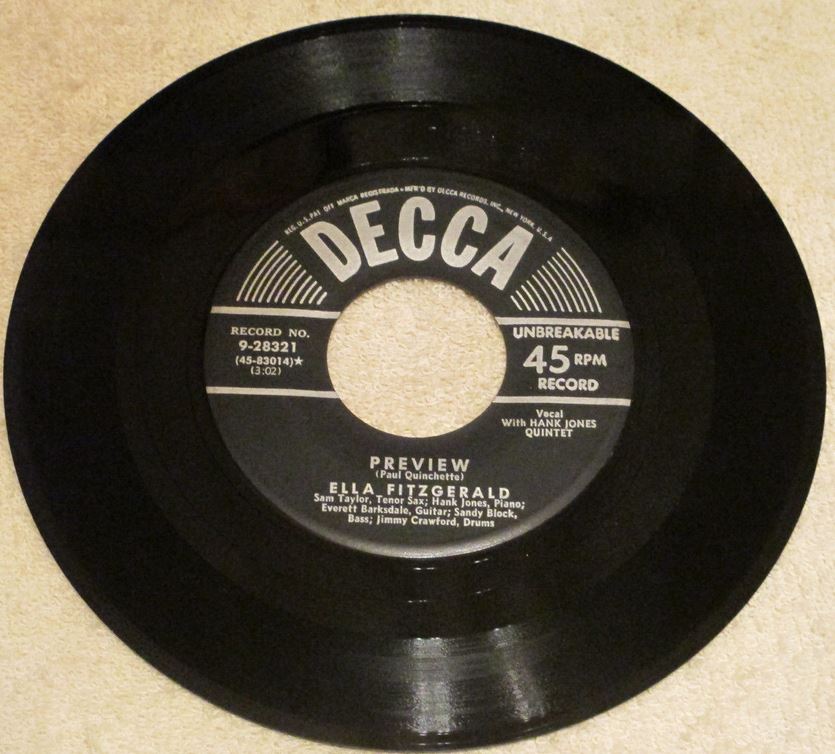 The personnel on this recording is part of a big band, directed by Sy Oliver, that accompanied Ella for five other songs on this session. The album "Smooth Sailing" is a compilation from several sessions over the late '40s and early '50s, featuring several well-known swing riff tunes (such as
Flying Home, Air Mail Special
and
Smooth Sailing)
that, like this one, feature Ella in a wordless scat context.
Sam "The Man" Taylor, the tenor saxophonist who solos on
Prevue
, replaced
Eddie "Lockjaw" Davis
in Cootie Williams' big band in 1944. That lineup of Cootie's band is best known for effectively launching the career of its pianist, Bud Powell.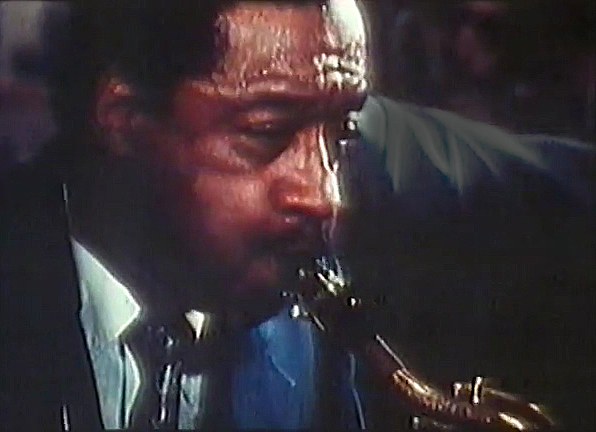 May 17, 1916 – May 25, 1983
Paul Quinichette was known throughout his career as the "Vice Prez" because of the similarity of his tenor saxophone sound to that of Lester Young ("Prez"). However, several elements of his playing were unique, and in some ways even more expressive than Young's. For example, his melodic vocabulary was more limited and often simpler. He also often exaggerated his articulations and dynamic contrasts in a manner all his own. If Young's sound can be described as delicate, Quinichette's by comparison is almost vulnerable. Read more...