Fuguetta

– Kenny Drew, Sr.

Bebop meets Baroque in this riff on the changes to Embraceable You.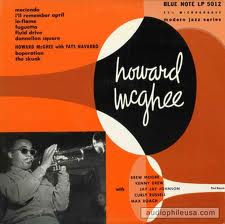 All selected items will be available for download after purchase.
Recording:

Howard McGhee - Howard McGhee

Recorded on:

January 23, 1950

Label:

Blue Note (BLP 5012)

Concert Key:

F

Vocal Range:

, to

Style:

Swing (medium up)
Trumpet - Howard McGhee
Tenor Sax - Brew Moore
Trombone - J.J. Johnson
Piano - Kenny Drew
Bass - Curly Russell
Drums - Max Roach
Our audio excerpt starts at the beginning of the track. The original recording features a 3-horn front line, and the ABAC format composition (with harmonic alterations) is based on the chord progression of the standard Embraceable You. Kenny's title probably comes from the two sections that feature 3-horn counterpoint during the B and D sections of the composition.

Jazz and classical worlds collide there, a bebop take on Baroque music. The swinging rhythms and chromatic alterations take this Kenny Drew composition a few centuries away from Bach, but, one could say, the long lines of the melody do tie it back to the Baroque tradition.

Our goal is to let everyone learn and experience playing the melody.


There are several "firsts" on this session. Surprisingly, it's Howard McGhee and J.J. Johnson's
first recording
together, although both had been recording for many years. McGhee's first session was in 1945, and J.J'.s in 1942.
McGhee and saxophonist Brew Moore first recorded together with Machito in 1948; this was their last date together. It was trombonist J.J. Johnson's and Brew's first session together, and it was pianist Kenny Drew's very first recording date.
What a thrill it must have been for Kenny Drew to be the pianist in the trio with the legendary bass/drums tandem of Curly Russell and Max Roach. Those two had been recording together since 1945 under the leaderships of Sarah Vaughan with Dizzy Gillespie, Charlie Parker,
Dexter Gordon
, Stan Getz, Coleman Hawkins, Bud Powell, Miles Davis and
Sonny Stitt
.
Also see our notes on
Donnellon Square
for more Kenny Drew info from this period.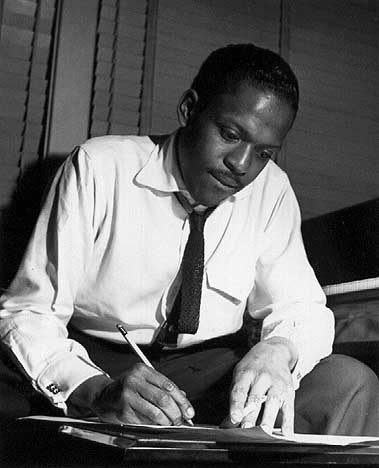 August 28, 1928 – August 4, 1993
Kenny Drew was born in New York City. He studied classical piano but soon turned to jazz. His recording career started in 1950 at age 22, first with Howard McGhee for Blue Note, then Sonny Stitt for Prestige. These two 1950 recordings plus a surviving radio broadcast with Charlie Parker (December 8, 1950) put him in the company of jazz greats J.J Johnson, Max Roach and Art Blakey. Read more...