Peck A Sec

– Hank Mobley

A full-of-fire uptempo rhythm changes swinger written for and recorded by trumpeter Freddie Hubbard. Hear what trumpeter Jim Rotondi has done with it, and check out Billy Drummond's drum transcription. Second parts available.
All selected items will be available for download after purchase.
Recording:

Freddie Hubbard - Goin' Up

Recorded on:

November 6, 1960

Label:

Blue Note (BLP 4056)

Concert Key:

B-flat

Vocal Range:

, to

Style:

Swing (uptempo)
Trumpet - Freddie Hubbard
Tenor Sax - Hank Mobley
Piano - McCoy Tyner
Bass - Paul Chambers
Drums - Philly Joe Jones
Hank knew trumpeter Freddie Hubbard could "fire it up," and loved to swing. With the stellar rhythm section of
Philly Joe
on drums, McCoy Tyner on piano and
Paul Chambers
on bass, Hank was inspired to write this gem for Freddie's session. It works great for one horn, but if you want the arrangement as recorded, separate second parts are also available.
"Goin' Up"
was recorded at the legendary
Van Gelder Studio
in Englewood Cliffs.
Freddie Hubbard started his New York recording experience with John Coltrane for Prestige ("The Believer") on December 26. 1958. On February 2, 1959, he did his first Blue Note date, Dexter Gordon's "Go!" That session led Alfred Lion, Blue Note's owner, to give Freddie his first leader date, which was "
Open Sesame
" on June 19, 1960. This date, Freddie's second recording as a leader, gave Hank Mobley his first opportunity to play with and write for Freddie. A week later the two horn players went back to Rudy Van Gelder's Studio to record Hank's "Roll Call" date. Before the end of that year Hank and Freddie also recorded together on Kenny Drew's Blue Note date "Undercurrent."
Freddie Hubbard and Hank Mobley, together:
(1960) "
Goin' Up
" Hubbard / "
Roll Call
" Mobley / "Undercurrent" Drew
(1965) "
The Turnaround
" (original LP release) Mobley / "Blue Spirits" Hubbard
All selected items will be available for download after purchase.
Recording:

Jim Rotondi - Introducing Jim Rotondi

Recorded on:

December 22, 1996

Label:

Criss Cross Jazz (1128 CD)

Concert Key:

B-flat

Vocal Range:

, to

Style:

Swing (uptempo)
Trumpet - Jim Rotondi
Tenor Sax - Eric Alexander
Piano - Larry Goldings
Bass - Dwayne Burno
Drums - Billy Drummond
Trumpet player Jim Rotondi is a true disciple of Freddie Hubbard. On his first album as a leader ("Introducing Jim Rotondi") he paid homage to his hero by recording A Peck A Sec with drummer Billy Drummond.
A Peck A Sec
was originally recorded by Freddie Hubbard with the great Philly Joe Jones on drums. Our lead sheets and second parts come from the original Hank Mobley arrangement for that recording.
On Jim Rotondi's album, Billy Drummond certainly pays homage to Philly Joe on this great straight-ahead track. The hookup between Drummond and bassist Dwayne Burno drives the track, and you can hear the excitement of each soloist.
Billy Drummond is an extraordinary soloist. He has internalized so much of the material played before him by Philly Joe Jones, Max Roach, and Tony Williams, and he has a really beautiful approach and sound to his solos, as exemplified in the trading eights in this transcription.
Billy Drummond's playing on his own composition
Dubai
(also transcribed and available on jazzleadsheets.com), is a little more abstract and modern, while
A Peck A Sec
demonstrates his mastery of the straight-ahead tradition.
The lead sheets shown on the right are based on the Hubbard recording.
Drum Transcription:
A seven-page in-depth drum transcription of Billy Drummond's playing
playing
on the Jim Rotondi reccording of Hank Mobley's "rhythm changes" composition
A Peck A Sec.
-- Intro (pedal with two-bar drum fill
-- time playing behind the melody in (melody above staff)
-- first eight bars of Billy Drummond's playing behind Eric Alexander's tenor sax solo
-- two choruses of trading eights with drums
-- time playing behind out melody (melody above staff)
-- Coda to ending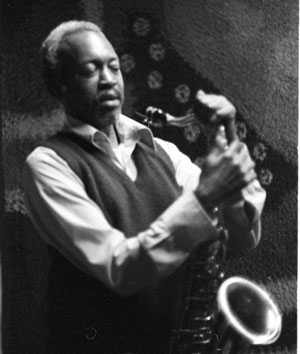 July 7, 1930 – May 30, 1986
Hank Mobley is one of the most acclaimed tenor saxophonists in modern jazz history. He is recognized by musicians and critics alike as one of the most important and eloquent jazz instrumentalists of all time. He recorded well over 100 of his own original compositions and left an indelible mark on the post-bop jazz scene. Read more...