Pas De Duo

– Don Friedman

This eloquent ballad is an earlier version of Minor Ballade, with a bass countermelody shown in our duo Piano and Bass part. Don's Solo Piano Arrangement is also available with an exclusive recording by Kenny Drew, Jr.
All selected items will be available for download after purchase.
Recording:

Don Friedman - Far Away Land

Recorded on:

April 22, 1987

Label:

Century Records (00131)

Concert Key:

C minor

Vocal Range:

, to

Style:

Ballad
Piano - Don Friedman
Bass - Eiji Nakayama
This version of Don Friedman's beautiful ballad later titled
Minor Ballade
was recorded as a piano and bass duo. The arrangement features a tender bass countermelody that seems to answer all the melody's questions. As a song, the main difference between
Pas De Duo
and
Minor Ballade
is the former's lack of a written melody at C. Our lead sheets are based on Don's original duo arrangement, which shows bass pedal points in the first three and last two measures of the C section; however, on the recording Don solos at C over 2-feel in the bass.
Our Piano and Bass duo part is as originally written by Don. The bass countermelody perfectly complements the melody, at first filling in around all the melody notes and coming together at the end of the A section. Each section of counterpoint begins and ends in contrary motion. The bass pedal point at C is included though it is not played on the recording. Don doubles some of the bass lines with his left hand at the beginnings of the other sections.
For Don's Solo Piano Arrangement, click on the Kenny Drew, Jr. album cover.
"
Far Away Land
" is a studio album recorded in Tokyo; the same duo recorded a live album six days earlier, "Sweet View." Don Friedman went back and forth several times between Europe and Japan from 1986 to 1988. He first recorded with bassist Eiji Nakayama on yet another duo album in April 1986, "Conversation."
All selected items will be available for download after purchase.
Recording:

Kenny Drew, Jr. - Kenny Drew, Jr. Plays Solo Piano Arrangements

Recorded on:

March 26, 2009

Label:

jazzleadsheets.com (JLS 1053)

Concert Key:

C minor

Vocal Range:

, to

Style:

Ballad
See the Piano Corner tab for details about this solo piano version, performed by Kenny Drew, Jr.
In 2009
Don Sickler
sent the music for over 70 piano arrangements by jazzleadsheets.com composers, to Kenny Drew, Jr. in Florida. Kenny was planning to come to NY for a few gigs and had some extra time. We spent four days at Rudy Van Gelder's studio in Englewood Cliffs, NJ, listening in awe as Kenny played arrangement after arrangement, often sight reading them.
This eloquent, melancholy song has a definite story line, but the addition of a countermelody adds an extra character and really gives the song meaning. The solo piano version has the countermelody—the bass line from the duo recording—in the left hand, with the right hand melody fleshed out with two- and three-note voicings. The C section has no melody until the last two measures; there are pedal points in the left hand almost throughout, with the right hand playing mostly quarter-note chords. The last two chords of D feature rising arpeggios, first in the right hand and then the left, that add an unexpected brightness to the end of the song.

Kenny Drew, Jr., recorded this arrangement a bit slower than Don's duo recording. We include detailed chord symbols that show all the important extensions and alterations.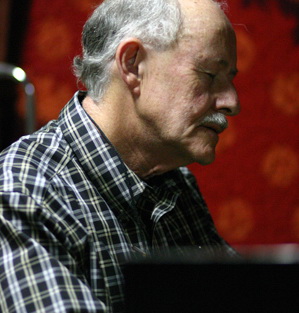 May 4, 1935 – June 30, 2016
Don Friedman was only four years old, living in San Francisco, when he started playing his parents' piano. A year later, he started lessons with a private teacher. His love for jazz music was born when he moved to L.A. and heard the likes of Les Brown and Lee Konitz for the first time. Read more...