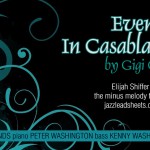 Introducing The Gigi Gryce Project. We're excited to be releasing the first two tracks from The Gigi Gryce Project, Evening In Casablanca and Satellite. Lead sheets for ten of the Gryce compositions we recorded are already available on jazleadsheets.com, but now we'll be able to add minus you tracks for all twelve of these wonderful compositions. Plus, we're expanding our editions to cover other Gryce recordings of the compositions and adding transcribed solos, giving you the opportunity for further insight into these great compositions and great soloists.
In 1960, when Gigi started recording again as a leader, his rhythm section was centered around pianist Richard Wyands. The Gigi Gryce Project was also centered around Richard, with Gryce devotee Kenny Washington on drums and bassist Peter Washington rounding out the rhythm section. I elected to change Gigi's basic quintet front line of trumpet/alto sax to alto sax/tenor sax, using two of my favorite musicians, Bobby Porcelli on alto and Ralph Moore on tenor.
With minus you tracks for every instrument, all musicians can have the experience of being part of the session. Stay tuned: we'll be releasing new titles and minus you tracks every week or so.
With the recent online and DVD release of "Jaco: The Film" bringing renewed and well deserved attention to the late bassist Jaco Pastorius, we want to introduce pianist Jon Davis's beautiful tribute to the great musician, titled Ballad for Jaco. Jon had the honor of playing and recording with Jaco. Jon writes, "It was a life altering experience in that Jaco's musical inspiration and influence was such a powerful force." To premiere the ballad as a piano/bass duo he chose young bassist Daryl Johns, who was just 15 at the time of the recording and video of the session. Lead sheets and Rudy Van Gelder's exclusive audio of the duo are available.
Geoffrey Keezer wrote Personal Space the day before the session for "Waiting In The Wings," his first album as a leader, recorded when he was only 17. Some years later, Geoffrey was the pianist accompanist for the 2009 Thelonious Monk International Bass Competition, where another young musician, 13-year-old bassist Daryl Johns, was one of the semifinalists. I got the two musicians together in 2011 for a duo session at Rudy Van Gelder's Studio. Geoffrey revisited Personal Space with Daryl playing the melody rubato for the first chorus. Piano solos from both versions are available, along with exclusive audio and video of the duo session.
Vocalist/lyricist/composer Judy Niemack has Something To Say, and we have a lovely video of her singing it in the jazzleadsheets.com studio with guitarist Jeanfrançois Prins. Judy's complete track and a minus you track without vocal are both available in C minor
TIP: You can find minus you titles by clicking on FEATURES in the top menu bar of every page and scrolling down to Minus You, then choosing For Instrumentalists or For Vocalists. Or type minus you in the search box at the top of every page (instrumental titles only). We'll be adding more in the coming weeks.
Thanks for keeping the music alive!
Don Sickler and the jazzleadsheets.com team