Look Inside

– Kenny Drew, Jr.

This post-bop song has a tricky form and visits a lot of key centers. On the recording, some of the melody is played by the bass.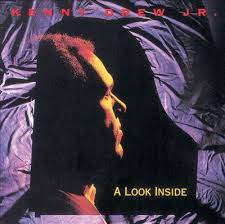 All selected items will be available for download after purchase.
Recording:

Kenny Drew, Jr. - A Look Inside

Recorded on:

June 22 & 24, 1992

Label:

Antilles (314 514 211-2)

Concert Key:

G

Vocal Range:

, to

Style:

Swing (medium)
Tenor Sax - David Sanchez
Piano - Kenny Drew, Jr.
Bass - George Mraz
Drums - Lewis Nash
Another Kenny Drew, Jr., gem, written as a feature for Kenny's bassist George Mraz. Check out the intriguing way the bass moves from melody to the open low E string at the end of the second A section on our audio excerpt.
This is an intricate post-bop composition that just keeps moving! The changes have a lot of II-V resolutions, but with chromatic side-slips so that the key center moves around a lot. The melody is streamlined, developing a four-measure theme that begins with an ascending scale. The form could be described as a larger AAB with the second "A section" (C and D) two measures shorter. The solo form is almost the same as the head; it is one measure shorter, with only one measure of A♭13(♯11) at the end instead of two measures (F is eight measures long here instead of nine). However, the last solo chorus inserts the extra measure again to return to the head out. All this is clearly notated on the lead sheet.
This is a great feature for your bass player (see the Bass Corner tab here and also our
Bass Corner
). On the recording, the bass plays the melody at A, joined by the tenor sax at B and C; the sax takes over at D and plays the rest of the melody. When the bass is playing the melody, the piano plays a bass line. The coda (G and H) reflects the same pattern: bass on the melody for the first four measures of G, sax and bass for the next four, and sax (with a bass counter melody) at H.
The album "
A Look Inside
" was Kenny Drew, Jr.'s fifth album as a leader, his second for Antilles, and the first to feature him alongside tenor saxophonist David Sanchez and drummer Lewis Nash. Bassist
George Mraz
had already recorded on a Kenny Drew Jr. album (1991) and would be on another of his trio recordings in 2001. Kenny recorded two more albums with Lewis, one of which was
"Passionata
." David Sanchez also played on Kenny's album "Siciliano."
Kenny also recorded this composition in 1999 on a Paul Kendall/Bob Leto session, featuring bassist John Ray.
Bass Melodies
(George Mraz, bassist)
A gorgeous melody with a well crafted harmonic scheme is a surefire way to grab the listener's attention. A thematic masterpiece, this melodic journey helps the advancing player incorporate motivic development, opening up their soloistic concept. This piece takes a couple of melodic subjects and transforms them various times, which is an enormously successful method for devising a coherent improvisation. This piece is an especially helpful study for those struggling with maintaining a thread of continuity in their improvisations. This is a pervasive issue for those of us in the Bass corner, as we are the melodic instrument that solos the least.
In addition,
A Look Inside
sings marvelously on the bass. The melody lies almost exclusively in the middle register (with a few noted exceptions like the low open E in section D!), which is conducive for a singing tone. It can be challenging for bassists to know what range to put a melody in, how to phrase and articulate it, as well as where to use dynamics. These tasks will be worked on by learning this piece. It goes through a multitude of keys, which will increase dexterity and fluidity of approach, two aspects that can never be under-valued. This piece is a valuable addition to the bass repertoire: it's a feature with a compelling, vocal melody that has excellent voicing and orchestration, thematic variation and harmonic ingenuity. It's hard to see why you wouldn't want to dig into this one!
Be sure you listen to the whole audio excerpt above. Note especially, when the bass leaves the melody Kenny created a great contrary motion line that goes to the strength of the open low E string, which then leads to some effective supporting root movement. Now check out the very ending, with the low E, naturally, ending everything!
end
Bassists should get the separate Bass part.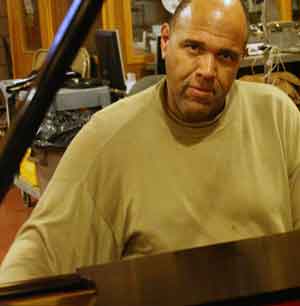 June 14, 1958 – August 3, 2014
Kenny Drew, Jr., son of pianist/composer Kenny Drew, Sr., started music lessons at the age of four. He studied classical piano with his aunt Marjorie, but soon found he enjoyed playing jazz as well. He performed worldwide with a comprehensive variety of musicians, including Stanley Jordan, OTB, Stanley Turrentine, Slide Hampton, the Mingus Big Band, Steve Grossman, Yoshiaki Masuo, Sadao Watanabe, Smokey Robinson, Frank Morgan, Daniel Schnyder, Jack Walrath, Ronnie Cuber and many others. Read more...