Larry-LaRue

– Booker Little

Recorded by the Max Roach Quintet, this lyrical song is a Booker Little classic. A full score and parts are available for the arrangement (three horns, no piano). We also have a transcription of Booker's melody interpretation and solo.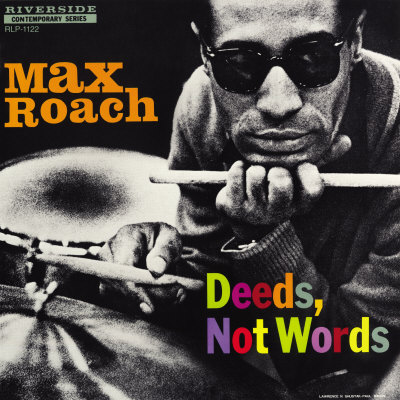 All selected items will be available for download after purchase.
Recording:

Max Roach - Deeds Not Words

Recorded on:

September 4, 1958

Label:

Riverside (RLP 12-280)

Concert Key:

B-flat, No key center

Vocal Range:

, to

Style:

Swing (medium)
Trumpet - Booker Little
Tenor Sax - George Coleman
Tuba - Ray Draper
Bass - Art Davis
Drums - Max Roach
With its soaring melody and bittersweet mood, Larry-LaRue is a Booker Little classic. The relatively simple lyricism of the melody makes it a great place to start exploring Booker's compositions before moving on to his more intricate, advanced works. The form of Larry-LaRue consists of two 18-measure sections (A1 and A2 in our lead sheets and parts), which are the same until the last six measures. Our lead sheets and parts have no key signature; the general key center is B♭ minor, but the end of A2 resolves to B♭ major. Both sections are harmonically based on a descending series of II-V7s, with a few chord substitutions especially in the head. The solo form is like the head but slightly simplified.

There is a 10-measure intro, unrelated to the head and at a slightly slower tempo. The bass pedals on beats 2 and 4 in the first four measures of this intro, and the next six measures are filled with a chromatic descending chord progression. The coda is a repeat of the last six measures of the head.

About the arrangement: We have a full score and parts for the three-horn, piano-less arrangement. The horns are intricately arranged, with lines of counterpoint weaving around each other through the changes, which makes the full score very helpful. Many of the tenor sax and tuba lines fill in half and quarter notes around the whole notes of the trumpet melody. In several places the lines come together rhythmically and then split off again; the trumpet and tenor start the A section in octaves and split off in the third measure.

Our lead sheets are also the first horn parts. There is often more than an octave between two of the lines, so the counterpoint still works if the octave has to be changed to accommodate the 2nd or 3rd part instrument's range. Our trumpet 2nd and tenor sax 3rd parts have some lines moved up an octave. The tuba 3rd part certainly works on trombone.

Although this was recorded as a 3-front line quintet, this arrangement also works great in a quartet format.

On the recording, bassist Art Davis plays the same walking line on both A sections of the in and out heads. Bassists can certainly play other lines on this song; our bass part has slashes, but Art's lines are shown in the bass staff on the full score.

This song was recorded without piano. Pianists who want to play this song, with or without the arrangement, should read the C lead sheet.
This song is named for Booker's twins, son Larry and daughter LaRue. This was Booker's second recorded composition, after
Minor Mode
which the Max Roach Quintet recorded two months earlier. For another from
this album
, check out
Ray Draper
's
Filide.
Though not directly based on this earlier song, Booker's composition
Forward Flight
(from his 1961 album "Booker Little And Friend") has a generally similar melodic direction and mood to parts of
Larry-LaRue.
Our three-page transcription shows not only Booker Little's solo
CLIP
but also his interpretation of the melody for the in head. The melody transcription shows more detailed articulations and added grace notes. Booker plays two solo choruses, which are full of energetic eighth-note lines that wind through the changes with a lot of enclosing and passing tones. Compare his line in measures three through seven of A2 in his first chorus with the equivalent measures in A1 of his second chorus—they're very similar, but with slightly different phrasing and melodic directions. Also check out his lines over the concert E7 in the 15th and 16th measures of A1—he plays a mostly descending line here in the first chorus, and a mostly rising line in the second.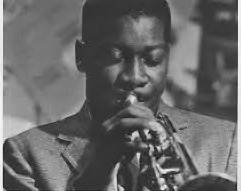 April 2, 1938 – October 5, 1961
A tragic loss to the world of jazz at age 23! Hearing is certainly believing: in Booker's short life, he still was able to leave us with recordings and compositions that are guaranteed to astonish and captivate. His effortless-sounding virtuosity ranks him as one of the greatest trumpet players. He was also a gifted composer, who obviously took composing very seriously, as his recording output shows. Booker began on trumpet when he was 12 and played with Johnny Griffin and the MJT + 3 while attending the Chicago Conservatory. He worked with Max Roach (1958-1959) and then freelanced in New York. He recorded with Roach and Abbey Lincoln, was on John Coltrane's Africa/Brass album, and was well-documented during a July 1961 gig at the Five Spot with Eric Dolphy. Booker Little led four sessions before his tragic early death. Read more...