It's Where It's At

– Harold Land

This exciting uptempo swinger was originally recorded with a big band, but it works equally well in a small group setting. It's built around a recurring vamp which expands the AABC form to 50 measures.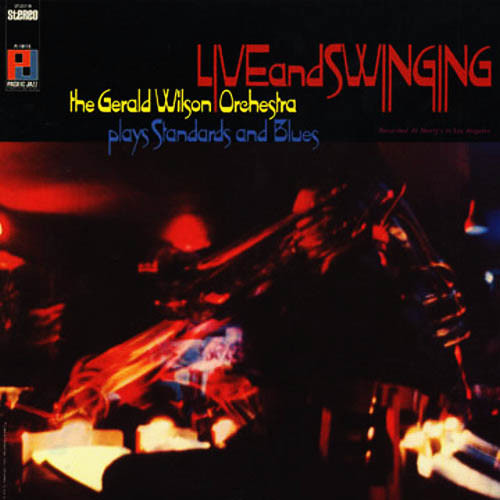 All selected items will be available for download after purchase.
Recording:

Gerald Wilson - Live And Swinging

Recorded on:

April 1, 1967

Label:

Pacific Jazz (PJ-10118)

Concert Key:

A-flat

Vocal Range:

, to

Style:

Swing (uptempo)
Trumpet - Gary Barone, Dick Forrest, Larry McGuire, Alex Rodriguez, Al Porcino, Charles Tolliver
Trombone - Lester Robertson, Mike Barone, Thurman Green
Bass Trombone - Don Switzer
Alto Sax - Ramon Borjorquez, Anthony Ortega
Tenor Sax - Harold Land, Hadley Caliman
Bari Sax - Howard Johnson
Piano - Phil Moore
Bass - Buddy Woodson
Drums - Carl Lott
Though originally written as a big band arrangement, this song is well worth playing with a small group. Its combination of modal vamp sections, stop-time and more II-V7 based harmonies is a good example of Harold Land's late '60s to '70s writing style. The vamp in question, which is also used as the intro and coda, is a four-measure rhythmic figure with a B major tonality. (Our lead sheets give the key signature as A♭ major as this is the first chord of the A section; the B major of the vamp also implies A♭ minor.) This four-measure figure appears twice at the end of each A section and C section, making these sections 14 measures long; the first six measures of these sections have more II-V7-based changes and stop-time hits on the head. The eight-measure B section swings with a 4-feel, with a descending series of dominant 13(♯11) chords. The melody of this song is relatively simple in a classic hard-bop style—a lot simpler than some of Harold Land's earlier compositions (like
Compulsion
or
Landslide
).
Our lead sheets show the dynamics used in the original big band arrangement. Both the intro and coda repeat the vamp progressively louder, with more horns added each time. In these sections, the melody pitches shown in our lead sheet are not the top notes every time; different repeats of the vamp have different notes in the chord as the top of the horn voicing. This can be explored in a small group setting as well.
Harold Land was a longtime member of Gerald Wilson's big band, playing in it through its on-and-off existence from 1961 to 1986. In fact Harold's was the second longest stay in this band of any player, after trombonist Thurman Green. "Live And Swinging" was Green's first album with the band, which he played in until the mid-'90s. Alto saxophonist Anthony Ortega was also a longtime Wilson band member, from 1965 to '84. "Live And Swinging" was recorded at the Los Angeles club Marty's On The Hill.

February 18, 1928 – July 27, 2001
Many people only know of Harold Land as the great tenor saxophone soloist who made the classic quintet recordings with the Clifford Brown - Max Roach Quintet: Joy Spring, Daahoud, The Blues Walk and other classics—many of which are available from jazzleadsheets.com. Harold is far more than just a great tenor saxophonist sideman. Read more...