Green's Greenery

– Grant Green

This catchy, snappy blues head is classic Grant Green. Dutch guitarist Jesse Van Ruller recorded a remarkable reharmonized version in 1997; a melody part is available for this as well as a transcription of Jesse's solo.
All selected items will be available for download after purchase.
Recording:

Grant Green - Grantstand

Recorded on:

August 1, 1961

Label:

Blue Note (CDP7-46430-2)

Concert Key:

B-flat

Vocal Range:

, to

Style:

Swing (medium)
Tenor Sax - Yusef Lateef
Guitar - Grant Green
Organ - Jack McDuff
Drums - Al Harewood
A classic hard bop blues head from one of Grant Green's early Blue Note recordings, "
Green's Greenery
." The melody really tells a story within the space of only 12 measures: a rhythmic opening statement in the first four measures, another phrase developed for six measures, and a return to the initial rhythms in the last two. The head is played mostly with a 2-feel, broken up by some quarter notes; the organ bass notes are shown in our lead sheet in these places.
The recording begins with a chorus of organ walking bass and drums only before the head. Guitar and tenor sax play unison throughout the head.
"Grantstand"
was recorded at the legendary
Van Gelder Studio
in Englewood Cliffs.
While recorded at the session for Grant Green's third album as leader on Blue Note, "
Grantstand
" (1961),
Green's Greenery
was not publicly released until the album's CD reissue in 1987, likely because of its similarity to the 15-minute long
Blues In Maude's Flat
on the original release. Notably, this session is the only official recording of Yusef Lateef with Green, Al Harewood, or Jack McDuff. It's also one of only two studio recordings of Harewood and McDuff together—they would record again in 1993 for guitarist Joshua Breakstone's "Remembering Grant Green," which also includes a version of
Green's Greenery
and was recorded at Rudy Van Gelder's Englewood Cliffs studio.
With a catchy, riff-like melody,
Green's Greenery
is a delightfully bouncy B♭ blues that features inspired solo statements from
Grant Green
, tenor saxophonist Yusef Lateef, and organist Jack McDuff. Green solos first with his trademark blues-soaked style, incorporating some effective bebop vocabulary but first and foremost getting deep in the pocket and driving the band forward. Behind Lateef's soulful statement, Grant lays down some subtle and funky comping, locking in rhythmically with McDuff and Harewood while avoiding harmonic clashes with McDuff by using sparse voicings. Green's comping then widens up behind McDuff, incorporating a wider register and denser voicings in order to fill the primary comping role.
Guitarists of any level, though especially those who are at the beginner or intermediate level, will learn much through studying Green's groove, tastefulness, and situational awareness.
All selected items will be available for download after purchase.
Recording:

Jesse van Ruller - European Quintet

Recorded on:

January, 1997

Label:

Blue Music (BM 1002)

Concert Key:

B-flat

Vocal Range:

, to

Style:

Swing (medium)
Soprano Sax - Peter Weniger
Guitar - Jesse van Ruller
Piano - Julian Joseph
Bass - Nicolas Thys
Drums - Mark Mondesir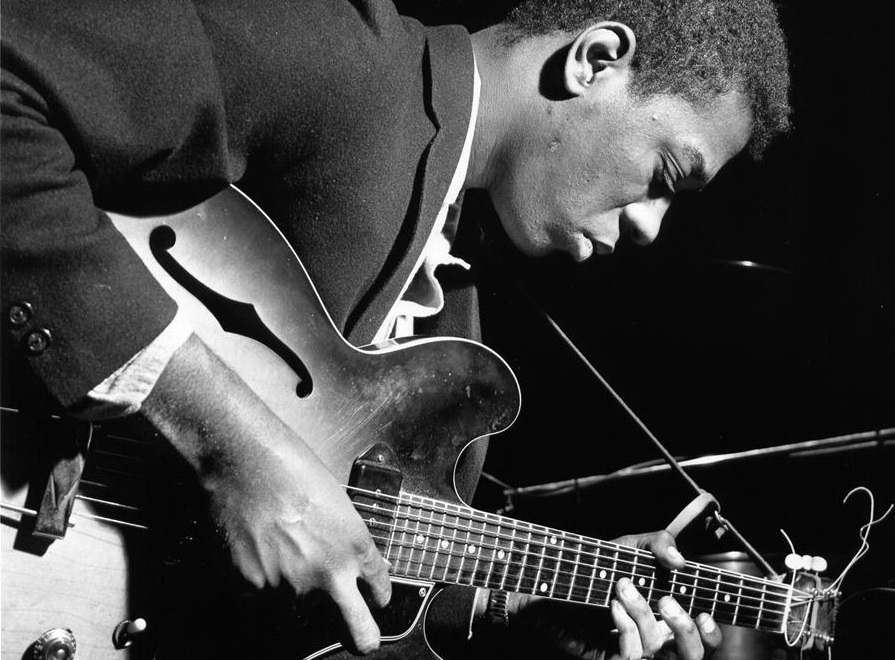 June 6, 1935 – January 31, 1979
One of the most influential and important guitarists in jazz, Grant Green stood out for his exquisite melodic sense, deep rhythmic feel, and distinctive tone. Born into a musical household in St. Louis, Missouri, the guitarist grew up in a milieu of gospel and boogie-woogie. This early environment profoundly shaped Green's trajectory as a musician. Read more...