Give Me That Feelin'

– Hank Mobley

A great example of that funky '60s Blue Note style, Give Me That Feelin' is a very fun song that deserves wider recognition. A condensed score, second and third parts are available for the three-horn arrangement.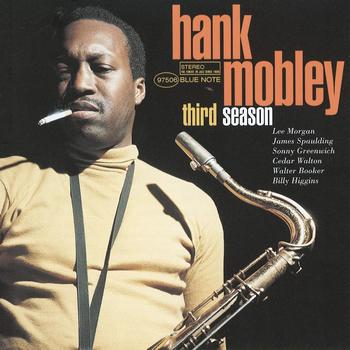 All selected items will be available for download after purchase.
Recording:

Hank Mobley - Third Season

Recorded on:

February 24, 1967

Label:

Blue Note (LT 1081)

Concert Key:

B-flat

Vocal Range:

, to

Style:

Even 8ths (funky)
Trumpet - Lee Morgan
Alto Sax - James Spaulding
Tenor Sax - Hank Mobley
Guitar - Sonny Greenwich
Piano - Cedar Walton
Bass - Walter Booker
Drums - Billy Higgins
A song that guarantees a good feeling! With its funky medium even-8ths groove and catchy rhythmic hook, Give Me That Feelin' is a classic example of the mid- to late '60s Blue Note sound. Its simplicity makes it a great song for younger or less experienced players to start exploring this style.

The main melody phrase in both the A and B sections is very rhythmic, lining up closely with the rhythm section groove. The 24-measure form is not quite a blues, going to F7 (the V chord) right after E♭7; the last eight measures alternate B♭7 and E♭7 until a final turnaround. There is an eight-measure rhythm section vamp intro; the rhythm section also vamps and fades out for the coda, with a different piano figure shown in our Condensed Score. Our lead sheets and parts show the top line of the piano voicings in the intro. Rhythm section players should read the Condensed Score.

About the arrangement: Second and third parts are available for our three-horn arrangement, which is marked "sextet" instead of "septet"—on the recording, guitarist Sonny Greenwich solos but does not play during the head. The horns are voiced in second inversion triads through the A and B sections. At C the alto and tenor sax have a unison countermelody (harmonized at the ends of the phrases) that fills in around the trumpet melody; the horns return to harmony in the second to last measure.

We have a guitar lead sheet, written an octave above our C treble clef lead sheet; this should be used if playing the arrangement with three guitars. For a baritone sax 3rd part, read the alto sax 3rd part up an octave.
"
Third Season
" was recorded by Rudy Van Gelder at the legendary
Van Gelder Recording Studio
in Englewood Cliffs, NJ.
Most of Hank Mobley's later '60s Blue Note albums have at least one song with a funky even 8ths groove. For more of these check out
The Turnaround
and
High Voltage
.
In 1967, the rhythm section of
Cedar Walton
,
Walter Booker
, and
Billy Higgins
also recorded together on two Donald Byrd albums: "Blackjack" in January (also featuring Hank Mobley) and "Slow Drag" in May. Walter Booker recorded again with Lee Morgan on the latter's two Blue Note sessions in September and October 1969, which were never released as a separate album but have been issued as bonus tracks on CD versions of Morgan's "Sonic Boom" and "The Procrastinator."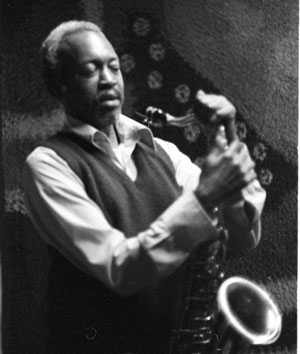 July 7, 1930 – May 30, 1986
Hank Mobley is one of the most acclaimed tenor saxophonists in modern jazz history. He is recognized by musicians and critics alike as one of the most important and eloquent jazz instrumentalists of all time. He recorded well over 100 of his own original compositions and left an indelible mark on the post-bop jazz scene. Read more...