From Here To There

– David Hazeltine

A beautiful 3/4 song that, while very simple, does not stay in any one key.

All selected items will be available for download after purchase.
Recording:

David Hazeltine - The Classic Trio, vol. II

Recorded on:

January 13 & 14, 2000

Label:

Sharp Nine (CD 1019-2)

Concert Key:

No key center

Vocal Range:

, to

Style:

3/4 swing (medium up)
Piano - David Hazeltine
Bass - Peter Washington
Drums - Louis Hayes
Our audio excerpt starts with the 16-measure intro that sets up the melody and establishes
an atmosphere of underlying motion and tension; this intro is indicated in all of the lead sheets.

The melody starts on the second measure of A; it floats over the changes in such a way that their complexity is not immediately apparent. Though the identical A and C sections are obviously in G minor, the B section travels through four major keys (D♭, B♭, F, A♭) and the D section's changes ascend and descend to B♭ minor. The chords in the A and C sections are each two measures long, while those of B and D are mostly one measure each; Hazeltine describes this contrast as "melancholy, droning harmony that morphs into some bright changes."

Some of Hazeltine's melody voicings and counter melodies are included in the C treble clef lead sheet.

This song would work equally well in a quartet setting with one melody instrument, with or without the piano harmonizing the melody.

Pianist/composer David Hazeltine was the reason Sharp Nine owner/producer Marc Edelman
started his record label. On the Sharp Nine website, Marc explains: "I got involved in the record business due to a chance meeting with David Hazeltine. I think it was in the Fall of 1993. I was driving home from work (I was an insurance broker at the time) and on WBGO they announced that Ralph Lalama was playing in a club in New Jersey about 20 minutes from my house. My kids were younger and I hadn't seen live jazz in quite a while. I've always liked Ralph's playing, so I decided I was going to go. I remember my wife not being too happy about leaving her at home with the kids after a long week, but I went anyway. David Hazeltine, who had recently returned to New York after 10 years back home in Milwaukee, was on the gig. At that time, I had been thinking I either wanted to start taking piano lessons or saxophone lessons, depending on which kind of teacher I found first. It was pure chance that I ran into him [David], as he was barely working at the time and I was not seeing much live music at the time, either. To make a long story somewhat shorter, I began taking lessons from Dave (who is not only a great player and composer, but an experienced and wonderful teacher as well) and we became friends. . . . The reason I starting thinking about making jazz CDs is that at the time, nobody would record David."
Edelman formed Sharp Nine to "record and promote modern jazz music—bebop and beyond." See the results of his interest: David's first
The Classic Trio
and more from
Volume II
.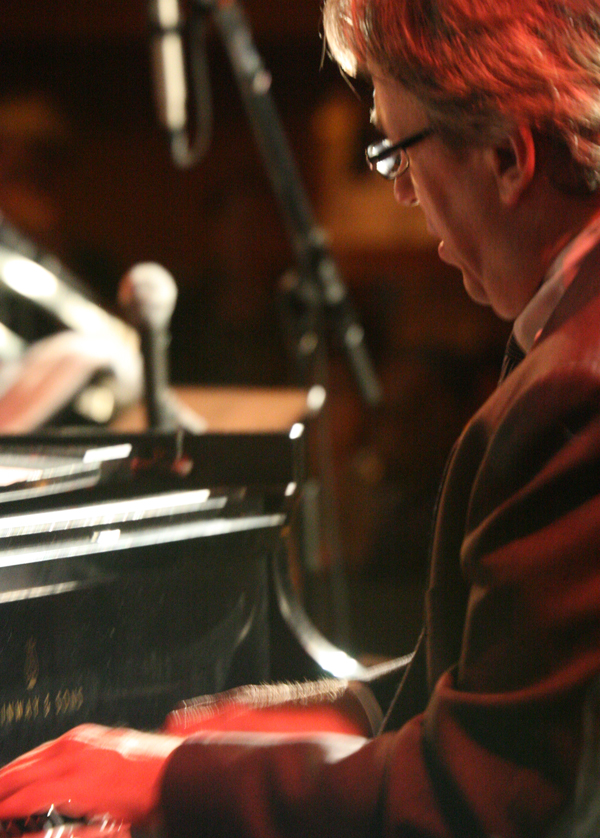 born on October 27, 1958
Heralded by pianist Cedar Walton as the "brightest star on jazz piano's horizon," David Hazeltine is considered to be one of jazz's premier pianists as well as composer-arrangers. With a mantra to "swing as much as humanly possible," David's style is infused with influences of Art Tatum, Bud Powell, Buddy Montgomery, Barry Harris and Cedar Walton while still retaining his own fiercely individual voice. Hailing from Milwaukee, David made his professional debut on the organ when he was just thirteen years old. Read more...