And Far Away

– Kenny Drew, Sr.

A haunting ballad in 3/4, showcasing the melodic artistry of Kenny Drew.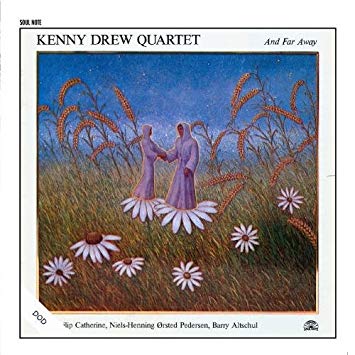 All selected items will be available for download after purchase.
Recording:

Kenny Drew - And Far Away

Recorded on:

February 21, 1983

Label:

Soul Note (SN 1081)

Concert Key:

E minor

Vocal Range:

, to

Style:

Ballad
Guitar - Philip Catherine
Piano - Kenny Drew
Bass - Niels Henning Orsted Pedersen
Drums - Barry Altschul
This haunting, impassioned ballad is a great example of Kenny Drew's melodic artistry. In common with many of Drew's compositions, it has an almost classical sound. The melody is mostly very diatonic, though with an elegant modulation in the middle. The form is 24 measures, with each of the three eight-measure sections starting the same and going in different directions in the fourth measure. The A section ends up in G, the relative major, while the B section's modulation goes to B♭ major. The melody note C connects that tonality with F♯m7♭5 to get back to the tonic. In the C section the same beginning of the melody leads back to E minor. Despite the E natural minor quality of the melody (with F♯), F natural is used in several chords for a dramatic effect, such as F triad over E in the second measure, and Fmaj7 in the sixth measure of the C section.
There is an intro
CLIP
which is played twice, and again once as a coda; it's a variation of the C section. On the recording the intro and coda are played rubato by the guitar with an atmospheric-sounding chorus effect, accompanied by arco bass. The piano takes over for the melody on the head. The second chorus of the piano solo, and both choruses of the guitar solo, are played with a double-time feel; in 3/4 this sounds like 6/4 or 3/2. Kenny Drew's fills at the end of the head before the coda are included in our lead sheets.
Guitarist Philip Catherine made three recordings with Kenny Drew. The first was "Morning," in 1975, followed by "In Concert" two years later; both were trio albums with Niels-Henning Orsted Pedersen. A 1989 album titled "Spanish Nights" features Catherine and Pedersen with orchestra accompaniment; some of the arrangements are by Drew. "
And Far Away
" is the only recording that Catherine did with drummer Barry Altschul. Drew's
Blues Run
is also on the album.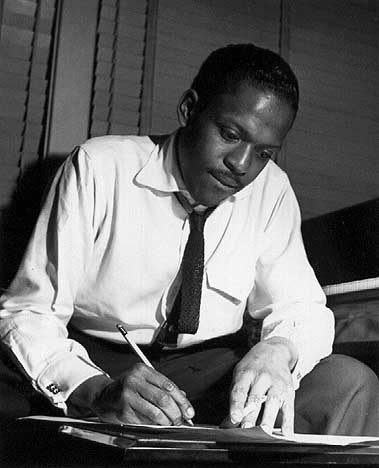 August 28, 1928 – August 4, 1993
Kenny Drew was born in New York City. He studied classical piano but soon turned to jazz. His recording career started in 1950 at age 22, first with Howard McGhee for Blue Note, then Sonny Stitt for Prestige. These two 1950 recordings plus a surviving radio broadcast with Charlie Parker (December 8, 1950) put him in the company of jazz greats J.J Johnson, Max Roach and Art Blakey. Read more...