Alhambra

– Kenny Drew, Jr.

An intricate and intriguing bossa that explores several key centers in different ways before settling on a minor-key vamp.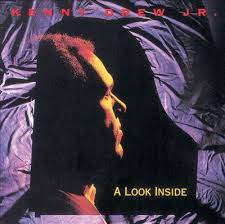 All selected items will be available for download after purchase.
Recording:

Kenny Drew, Jr. - A Look Inside

Recorded on:

June 22 & 24, 1992

Label:

Antilles (314 514 211-2)

Concert Key:

B-flat minor

Vocal Range:

, to

Style:

Latin (Bossa)
Piano - Kenny Drew, Jr.
Bass - George Mraz
Drums - Lewis Nash
Kenny Drew, Jr.'s vast musical knowledge coupled with a tremendous melodic and harmonic gift has yielded many absolute gems, including
Alhambra
. Our audio excerpt begins with what appears to be an intriguing introduction, built on a double bass line (a flowing left hand piano line on top of the bass player's line—all notated in our C treble clef lead sheet.) But in fact this section later reappears as the E section of what we've labeled ABCDE; a constantly evolving melody that can also be thought of as an A1-B1-A2-B2-C format. The melody starts in minor (A1) but beautifully evolves and is reborn in major for the A2 section.
The key center of this song moves around a lot, typical of Kenny's compositions. The chord progression is particularly interesting with regard to the relationship between the first sixteen measures (A and B) and the second sixteen (C and D). The changes in these two sixteen-measure sections are very similar, but some chord qualities are different (e.g., G minor in the A section versus G major at C), leading to different chords that end up in the same place (e.g., G minor to A♭ to B♭, versus G major to E minor to F minor to B♭). The melody is also very similar in these sections but changed to reflect the harmonic change. As with
A Look Inside
from the same album, the form ends in a sort of vamp.
Note that this composition has been recorded using two different spellings:
Alhambra
which is the correct spelling for the Moorish fortress in Spain, and
Alahambra
, as shown on the "A Look Inside" album.
Only three of the eleven songs on the album "
A Look Inside
" feature this trio. Bassist George Mraz first recorded with Kenny in 1991 (in a trio context with drummer Al Foster) where they recorded Kenny's beautiful tribute to Bill Evans called
This One's For Bill
(album: "
Kenny Drew Jr.
"). In 2001, Mraz was on another one of Drew's trio albums ("Autumn"). Drummer Lewis Nash would also later record on two more of Kenny's albums: "
Passionata
" (1995) and "Reverie" (1996). Tenor saxophonist David Sanchez sits in with the trio heard here on the
title track
.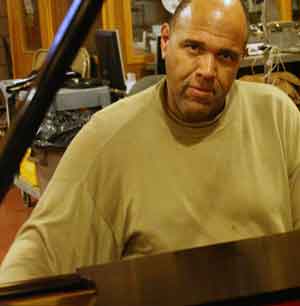 June 14, 1958 – August 3, 2014
Kenny Drew, Jr., son of pianist/composer Kenny Drew, Sr., started music lessons at the age of four. He studied classical piano with his aunt Marjorie, but soon found he enjoyed playing jazz as well. He performed worldwide with a comprehensive variety of musicians, including Stanley Jordan, OTB, Stanley Turrentine, Slide Hampton, the Mingus Big Band, Steve Grossman, Yoshiaki Masuo, Sadao Watanabe, Smokey Robinson, Frank Morgan, Daniel Schnyder, Jack Walrath, Ronnie Cuber and many others. Read more...