War Zone

– Rob Bargad

A driving, minor-key uptempo swinger with a bluesy melody. The solo form is different from that of the head.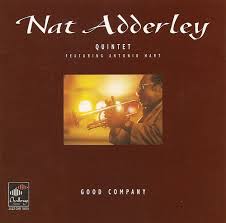 All selected items will be available for download after purchase.
Recording:

Nat Adderley - Good Company

Recorded on:

June 20 & 21, 1994

Label:

Challenge (CHR 70009)

Concert Key:

G minor

Vocal Range:

, to

Style:

Swing (uptempo)
Cornet - Nat Adderley
Alto Sax - Antonio Hart
Piano - Rob Bargad
Bass - Walter Booker
Drums - Jimmy Cobb
A driving uptempo song with a very simple melody. Though the changes travel to several key centers, the melody remains almost entirely in the G minor pentatonic scale. The changes do not land in G minor at the end of the A and C sections, though they do in the bridge. The C section's changes modulate down in half-steps all the way through the octave, from D♭ down to D♭, in chords that both progress logically and each contain much of G minor pentatonic scale. The solo changes are similar to the head but without the first six measures of C (the chromatic walk-down), creating a 34-measure form (8-8-8-10) instead of the 42-measure head. The coda is a tag of C, while reversing a common tag ending device of "faking out" the last chord twice and then ending on the tonic. In this case, the first two times end in G minor and the third in D-flat major and then an unresolved D7sus.
Rob's first recording was with Lionel Hampton and his big band in June, 1988. By the time of our recording, Rob was already a seasoned veteran with Nat Adderley and this rhythm section, having first recorded with them in May, 1990. Three albums came out of their 1990 sessions in May and November. After two other recordings with Nat and Rob with different rhythm sections, this rhythm section came together for one more recording in 1992 before the featured 1994 album, which was the first of two albums to have Antonio Hart on alto sax. This group's last recording session with Nat was in December, 1995.
From this album, also check out
Rob's New Song
.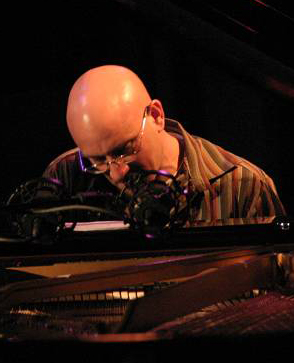 born on September 7, 1962
Boston-native Rob Bargad is an accomplished pianist, organist, composer, songwriter, arranger, producer and teacher. In 1984 he began his jazz career accompanying Little Jimmy Scott and Dakota Staton in New York City. He toured the United States as the pianist for vibes master Lionel Hampton, the Harper Brothers and most notably, the late cornetist Nat Adderley. Rob played and recorded with Adderley for eight years. Read more...