Take Care

– Valery Ponomarev

Half Latin, half bop and full of soul, Take Care has an authentic hard-bop sound. Valery Ponomarev transcribed trumpet solo available.

All selected items will be available for download after purchase.
Recording:

Valery Ponomarev - Means Of Identification

Recorded on:

April 14, 1985

Label:

Reservoir (RSR 101)

Concert Key:

E-flat minor

Vocal Range:

, to

Style:

Latin (Mambo)
Trumpet - Valery Ponomarev
Tenor Sax - Ralph Moore
Piano - Hideki Takao
Bass - Dennis Irwin
Drums - Kenny Washington
A sassy Latin-bop hybrid, Take Care has an expressive melody with a pleasing flow to it but just enough grit to keep it soulful. Although it was recorded in 1985, it has a true hard-bop sound that makes it sound much earlier—but not at all dated. The rising modulations at the end of the head add excitement, as does the drum break before the solos. Because of this break and the strong Latin groove, Take Care shows off the drummer while still keeping focus on the melody—the perfect way to keep everyone in the group happy!
Don Sickler: "There are many "firsts" relating to this recording: it's Valery's
first recording as a leader
, the first release on Mark Feldman's Reservoir label, and the first recording Valery did at the famed Van Gelder Recording Studio. As a fellow trumpet player, I've known Valery since his earliest recordings with Art Blakey and the Jazz Messengers (1977). Another first for me: on Valery's 1985 recording I met tenor saxophonist Ralph Moore, who has become a friend and is truly one of the great saxophonists playing today."
Transcribed Trumpet Solo
We're offering two different Valery Ponomarev trumpet solo transcriptions in one edition—one from the master take and one from the alternate take
trumpet
(it's also available on iTunes). In each, Valery feeds off tenor saxophonist Ralph Moore's closing phrase but goes in a new direction for his own solo each time. Comparing Valery's interpretations of his own composition offers tremendous insight into his improvisational vocabulary and explains this composition in a new light. Both transcriptions are available in B-flat and C editions.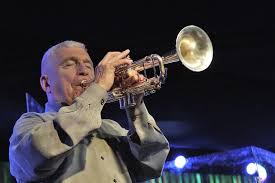 born on January 20, 1943
One of the first Russians to make a big name in the American jazz scene, Valery Ponomarev is a trumpet virtuoso whose hard bop style is enjoyed worldwide. Valery was first introduced to jazz during his youth while watching the television program "Voice of America." He was particularly entranced by trumpeter Clifford Brown and dedicated years of his life transcribing and studying great jazz trumpet solos. His hard work paid off: not only was he able to record regularly in the USSR under the Melodiya label, but after he left the country in 1973, it didn't take long for him to be offered a spot in Art Blakey's Jazz Messengers. During his four years with the Messengers, Valery appeared on eleven albums and toured worldwide. Read more...