Means Of Identification

– Valery Ponomarev

A brassy piece in 3/4 with hard-bop vocabulary and a hint of Latin influence.

All selected items will be available for download after purchase.
Recording:

Valery Ponomarev - Means Of Identification

Recorded on:

April 14, 1985

Label:

Reservoir (RSR 101)

Concert Key:

C minor

Vocal Range:

, to

Style:

Swing (medium up)
Trumpet - Valery Ponomarev
Tenor Sax - Ralph Moore
Piano - Hideki Takao
Bass - Dennis Irwin
Drums - Kenny Washington
This Valery Ponomarev composition has a big sound and a hearty dash of rhythmic complexity. The intro begins in 4/4, but the piece melody is written in 3/4 with a 2 against 3 feel. Although it is a medium up swing, as you can hear in our audio excerpt, the drums can settle into a complex groove that has a bit of Latin influence. On top of this rich rhythmic background, Valery writes a bright, brassy melodic line. Our audio excerpt begins at the introduction and continues through the head, fading out on the repeat.
This was the first album on the Reservoir label (RSR 101). Owner Mark Feldman has recorded many great albums over the years. All six of Valery Ponomarev's originals from
this album
are available from us either through Second Floor Music (the printed quintet arrangements of
Envoy
and
Dialog
) or on jazzleadsheets.com:
Fifteenth Round
,
Mirage
, and
Take Care
.
Some of the song titles on this album refer to Valery's experiences leaving his native Russia for the US. The album cover featured Valery in front of the flags of the United Nations.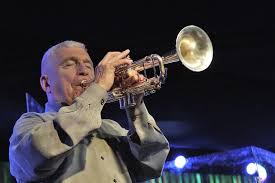 born on January 20, 1943
One of the first Russians to make a big name in the American jazz scene, Valery Ponomarev is a trumpet virtuoso whose hard bop style is enjoyed worldwide. Valery was first introduced to jazz during his youth while watching the television program "Voice of America." He was particularly entranced by trumpeter Clifford Brown and dedicated years of his life transcribing and studying great jazz trumpet solos. His hard work paid off: not only was he able to record regularly in the USSR under the Melodiya label, but after he left the country in 1973, it didn't take long for him to be offered a spot in Art Blakey's Jazz Messengers. During his four years with the Messengers, Valery appeared on eleven albums and toured worldwide. Read more...