Straight Ahead

– Hank Mobley

A challenging up-tempo tune with a mysterious vibe. A transcription of the incredible Billy Higgins' drum work is also available.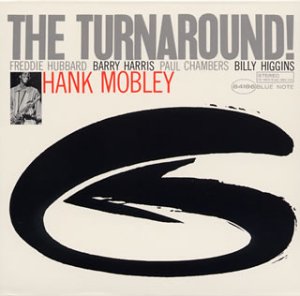 All selected items will be available for download after purchase.
Recording:

Hank Mobley - The Turnaround

Recorded on:

February 5, 1965

Label:

Blue Note (BLP 4186)

Concert Key:

F minor

Vocal Range:

, to

Style:

Swing (uptempo)
Trumpet - Freddie Hubbard
Tenor Sax - Hank Mobley
Piano - Barry Harris
Bass - Paul Chambers
Drums - Billy Higgins
Here's another important Hank Mobley composition which shows Hank's ability to create music around the style of Billy Higgins, the drummer chosen for this date. Listening to our clip, you can tell that this one's not for Art Blakey or Philly Joe Jones. It definitely has Billy Higgins' name written all over it.

Our audio clip starts with the introduction. The melody expands into an interesting AABA form: 16-measure A sections, divided into two eight-measure sections. First, Higgins has a chance to create fills around the melody and the two-measure pulsating piano and bass figures, then he switches to a 4-feel for the remaining eight measures of each A section. The bridge remains 4-feel which sets up the last A section. After solos and the out melody, the arrangement's Coda starts with the first six measure of the intro before Hank's created ending.

This uptempo swing gets a hint of the exotic by emphasizing the major seventh of F minor in the melody. The major-minor contrast adds mystery and intrigue. The C treble clef part contains complete rhythm section notations, but for reading ease, separate Piano and Bass editions are also available.

Drummers, be sure to check out our transcription of Billy Higgins' playing behind the melody. Click the Drum Corner tab for details.
Straight Ahead
originally comes from Hank Mobley's "
The Turnaround
" album, an unusual one in that it combines two sessions separated by two years and each with entirely different personnel (except, naturally, for Hank). Alfred Lion and Frank Wolff of Blue Note loved Hank, but they were also fanatical about only releasing what they felt were absolutely the best tracks from Hank's many sessions. They also liked to organize the albums to make the most musical sense to them.
After Hank recorded his incredible "Soul Station" album (BLP 4031) they became even more determined to release only what were, for them, Hank's best tracks. After "Soul Station," here are the Mobley albums Blue Note released through the album after "The Turnaround":
4031 -
Soul Station
4058 -
Roll Call
4080 -
Workout
4149 -
No Room For Squares
4186 -
The Turnaround
4230 -
A Caddy For Daddy
The original Blue Note releases did not include session dates in the liner notes, so you couldn't tell how many sessions were involved or when they were recorded. The "No Room For Squares" and "The Turnaround" albums come from 3 sessions:
March 7, 1963: 6 tracks recorded, 2 used on "No Room For Squares," 2 used on "The Turnaround"
October 2, 1963: 8 tracks recorded, 4 used on "No Room For Squares," none used on "The Turnaround"
February 5, 1965: 6 tracks recorded, none used on "No Room For Squares," 4 used on "The Turnaround"
An eight-page drum transcription of Billy Higginson Hank Mobley's composition
Straight Ahead
-- Intro with drum set ups
-- everything Higgins plays though the AABC long form, with melody shown above the staff
-- first eight bars behind Freddie Hubbard's solo
-- out melody and ending
-- horn melodies are shown above the drum staff
Interpreting a bebop or hard bop song on drums can be very tricky. It's important to swing the band and keep the time on the cymbal, but there are also moments to go off the cymbal and accentuate certain phrases on the drums. This transcription provides a great study on how to combine both elements. The melody leaves a lot of space for Higgins to insert his signature phrases. Though there is no drum solo, Higgins puts his stamp on this recording through what he plays during the melody
. He was one of the most recorded jazz drummers of all time; a first choice for many of Blue Note Records' finest leaders.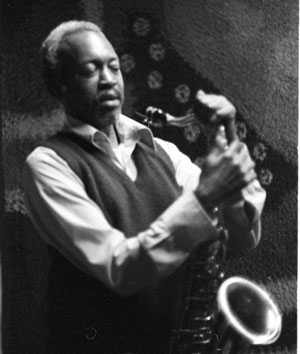 July 7, 1930 – May 30, 1986
Hank Mobley is one of the most acclaimed tenor saxophonists in modern jazz history. He is recognized by musicians and critics alike as one of the most important and eloquent jazz instrumentalists of all time. He recorded well over 100 of his own original compositions and left an indelible mark on the post-bop jazz scene. Read more...