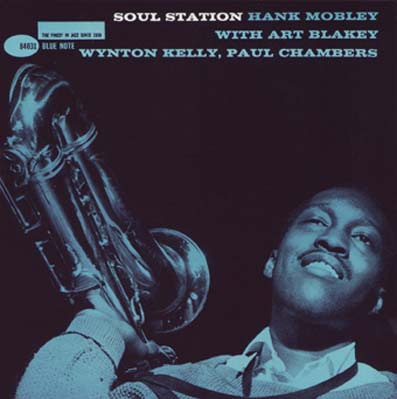 Soul Station
Leader: Hank Mobley
Label: Blue Note (BLP 4031)
Recorded at the legendary Van Gelder Studio in Englewood Cliffs on February 7th, 1960.
Tenor Sax - Hank Mobley Piano - Wynton Kelly Bass - Paul Chambers Drums - Art Blakey
One of the greatest Blue Note albums of all time, "Soul Station" showcases Mobley's impeccable lyricism alongside a truly superlative rhythm section. Recorded in all first takes, the band delivers the highest level of swing at at every tempo (up-tempo on This I Dig Of You and Split Feelin's, medium on Dig Dis, and down-tempo on Soul Station), and Mobley uncorks one beautiful phrase after another effortlessly (transcriptions are available for all of his solos). Truly one of the magic moments in the recorded history of this music.