Straight Ahead

– Gigi Gryce

This slow bebop blues feels really good! The dynamic contrasts make the melody stand out as it romps through the changes. Lead sheets and second parts.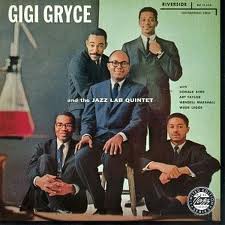 All selected items will be available for download after purchase.
Recording:

Gigi Gryce - Gigi Gryce And The Jazz Lab Quintet

Recorded on:

March 7, 1957

Label:

Riverside (RLP 12-229)

Concert Key:

B-flat

Vocal Range:

, to

Style:

Swing (slow)
Trumpet - Donald Byrd
Alto Sax - Gigi Gryce
Piano - Wade Legge
Bass - Wendell Marshall
Drums - Art Taylor
Our audio excerpt starts with the horn melody. On the recording, the melody is preceded by a double time 2-feel blues chorus by the rhythm section. Straight Ahead is an interesting Gigi Gryce blues line where triplet figures lead to two sixteenth notes. There are some horn harmony parts, so second part editions are also available. The harmonized interlude that starts the first alto sax solo chorus on the recording is also indicated on all lead sheets. The solo section was designed to alternate between a slow swing chorus with the bass walking followed by a double time 2-feel chorus, and is also indicated.

Gigi Gryce and Donald Byrd started their Jazz Lab recording projects with a larger ensemble on January 13, 1957, for Columbia Records. On February 27, 1957, they recorded their first session for a different label, Riverside.
Gryce was kept busy the rest of that year with quite a few arranging and recording gigs. Here's an outline of his recording projects for the rest of the year:
March 8-9 - arrangement for Art Blakey and the Jazz Messengers (Elektra) see
Casino
March 13 - additional Donald Byrd & Gigi Gryce Jazz Lab session (Columbia)
March 24 - played on Lee Morgan - Volume 3 session (Blue Note)
April 2 - arrangements for Art Blakey - "Jazz Messengers Plus Four" (RCA)
April 18 - arrangements for Herbie Mann - "Salute to the Flute" (Epic)
May 26 - arrangements and performance: Oscar Pettiford and his Birdland Band - "Jazz Off The Air Vol. 6"
May 27 - arrangements for Kenny Dorham - "Jazz Contrasts"
June 24 - NBC-TV broadcast of "Tonight! America After Dark"
June 25-26 - Thelonious Monk - "Monk's Music" sessions
July 5 - Gigi Gryce & Donald Byrd "Jazz Laboratory at Newport" (Verve) see
Splittin'
July 30,31, August 1 - Donald Byrd & Gigi Gryce - "New Formulas from the Jazz Lab" (RCA)
August 9 - Gigi Gryce & Donald Byrd "Jazz Lab" (Jubilee)
August 23,30, September 6 - "Oscar Pettiford in Hi-Fi, Volume 2" (ABC-Paramount)
August 30, September 3, 5 - "Modern Jazz Perspective/Jazz Lab, Volume 2" (Columbia)
October 14,17 - Benny Golson's "New York Scene" (Contemporary)
December 17 - Dizzy Gillespie Octet - "The Greatest Trumpet of Them All" (Verve)
December 19,23 - Benny Golson - "The Modern Touch"
Learn more about Gigi Gryce at
Noal Cohen's Jazz History website
. Also see
Gryce's discography
.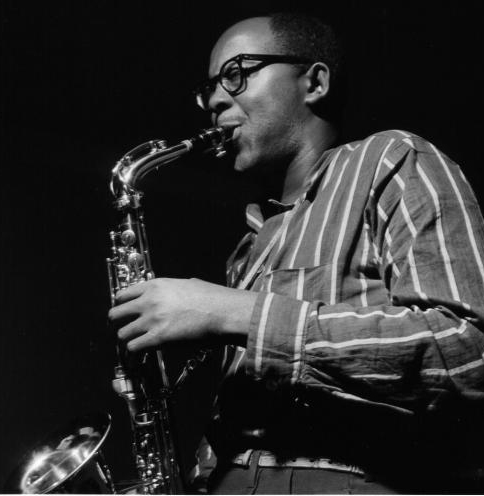 November 28, 1925 – March 17, 1983
Gigi Gryce was a fine altoist in the 1950s, but it was his writing skills, both composing and arranging (including composing the standard Minority) that were considered most notable. After growing up in Hartford, CT, and studying at the Boston Conservatory and in Paris, Gryce worked in New York with Max Roach, Tadd Dameron, and Clifford Brown. He toured Europe in 1953 with Lionel Hampton and led several sessions in France on that trip. Read more...