Something For Lisa

– Al Cohn

This "cool" medium-up swinger has been recorded several times. Lead sheets are available, plus Chet Baker's quintet arrangement; it differs from the other versions in several respects..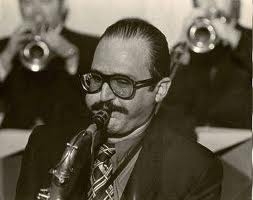 November 24, 1925 – February 15, 1988
Al Cohn, born in Brooklyn, NY, went on to become not only a brilliant jazz tenor saxophonist, but an arranger, leader and sideman par excellence. From the "Al Cohn Memorial Jazz Collection," East Stroudsburg University of Pennsylvania website: "His career in jazz spanned more than 45 years. He performed with the bands of Henry Jerome, Joe Marsala, Georgie Auld, Alvino Rey, Buddy Rich, Woody Herman, Artie Shaw, Elliot Lawrence and others. Many of the arrangements used by these bands were written by Al, and he also arranged for Gerry Mulligan, Quincy Jones, Terry Gibbs and Jimmy Rushing. Read more...