Scotch Thing

– Grant Stewart

Instantly appealing, this slow swing with contrasting bridge is presented in two editions: a quartet version from its first recording, and a quintet version with second parts from a later one. Condensed score and Peter Washington's transcribed bass solo also available.
All selected items will be available for download after purchase.
Recording:

Grant Stewart - Buen Rollo

Recorded on:

June 2 & 3, 1998

Label:

Fresh Sound (053)

Concert Key:

C

Vocal Range:

, to

Style:

Swing (slow)
Tenor Sax - Grant Stewart
Piano - Fabio Miano
Bass - Chris Higgins
Drums - Marc Miralta
This slow swing combines a supremely cool, relaxed feel with a modern aesthetic to great success. At times minimalist with its repeating note theme and surprising long pauses,
Scotch Thing
is never too sparse; Grant uses more intricate figures to add appealing ornamentation. Check out his treatment of the bridge:
bridge
.
Despite the title,
Scotch Thing
was composed when Grant was in Madrid and was inspired by his time there. His album "
Buen Rollo
" was recorded in Barcelona and released on the Spanish label Fresh Sounds.
All selected items will be available for download after purchase.
Recording:

Eric Alexander & Grant Stewart - Wailin' - Reeds And Deeds

Recorded on:

April 20, 2004

Label:

Criss Cross Jazz (1258)

Concert Key:

C

Vocal Range:

, to

Style:

Swing (slow)
Tenor Sax - Eric Alexander
Tenor Sax - Grant Stewart
Piano - David Hazeltine
Bass - Peter Washington
Drums - Kenny Washington
In this quintet version, the two tenors play unison for the first A section and break into harmony in the second A. The bridge
[clip here]
alternates four measures of Stewart playing the melody with four measures of the two tenors in harmony. The feel is subtly different from the quartet recording: Kenny Washington plays the hi-hat on beats 2 and 4, giving more of a true 2-feel as opposed to the half-time feel (hi-hat on beat 3 only) heard on the other version.
"Wailin'" was the first recorded collaboration between
Eric Alexander
and Grant Stewart—or as they call themselves, "Reeds And Deeds." Since then, they have recorded two more albums, "Cookin'" (2005) and "Tenor Time" (2010).
Bass Lines (Peter Washington, bassist)
The entire recorded bass line for both in and out melodies and behind both tenor sax solos, on seven pages.

Peter Washington's playing on Scotch Thing is an excellent example of how one can do a magnificent job accompanying the lead and the soloists while also showing off the wonderful chordal aspects of the instrument. Washington, a player revered for his dedication to laying down a wonderfully smooth and swinging line, gives a veritable masterclass on how to incorporate double stops into your accompaniment line. Throughout both the in and out melodies, as well as the solo sections, Peter frequently plays both the root and the fifth at the same time, providing tremendous stability to the harmonic architecture and a beautiful sonority for the audience and musicians to grab onto. Since these fifths and other double stops are powerful devices, one must handle them with care or else the music gets very clogged. Fortunately, Washington's timing is impeccable so players can learn where and when to incorporate these very fun and satisfying double stops.

In addition to the aforementioned fifths, Peter also uses the octave and the tenth, two more enchanting textures that the bassist can provide to satisfy the sound of the song.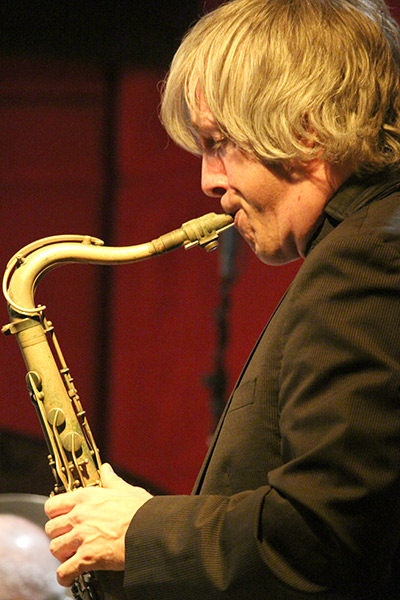 born on June 4, 1971
A swinging tenor saxophonist, Grant Stewart is a powerful, expressive stylist in today's jazz scene. Born in Toronto, Stewart's early exposure to giants like Charlie Parker and Coleman Hawkins came from his father, an English teacher and semi-professional guitarist. By the age of 14 Grant was so advanced on the alto saxophone that he began playing professionally in the Pete Schofield Big Band. At 17, he made the switch to tenor and starting playing with some of his greatest influences in the Toronto jazz scene, Pat LaBarbera and Bob Mover. (He still does play alto saxophone to this day, but his love of artists like John Coltrane and Sonny Rollins encouraged him to make tenor his primary instrument.) Read more...