Rounder's Mood

– Booker Little

This exciting medium-up swinger comes from Booker Little's first album as a leader. A condensed score and second parts are available for the two-horn arrangement; we also have a transcription of Booker's solo.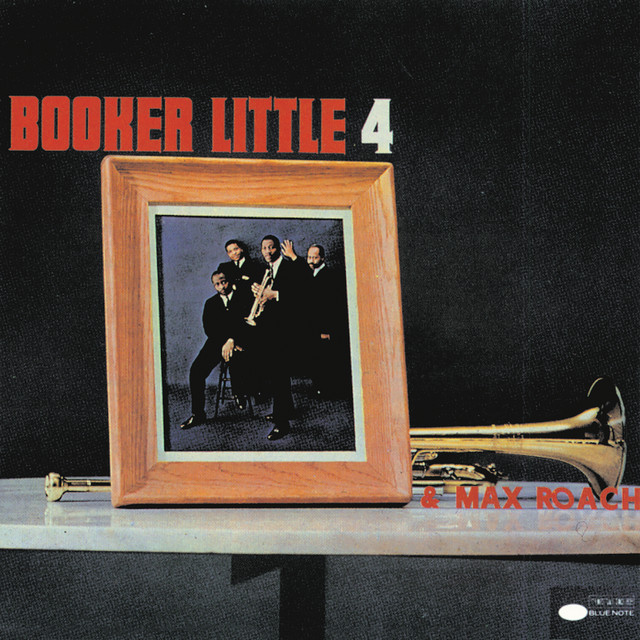 All selected items will be available for download after purchase.
Recording:

Booker Little - Booker Little 4

Recorded on:

October, 1958

Label:

United Artist (UAL 4034)

Concert Key:

D-flat

Vocal Range:

, to

Style:

Swing (medium up)
Trumpet - Booker Little
Tenor Sax - George Coleman
Piano - Tommy Flanagan
Bass - Art Davis
Drums - Max Roach
This bright-toned medium-up song has a classic hard bop sound, with fun changes for blowing. The melody covers a wide range—almost two octaves—with some of the subtly tricky lines and leaps that characterize the Booker Little style. The form is 40 measures long, with a 16-measure A section, 8-measure B and 16-measure C the same as A. The changes are relatively tonal in D♭ major with plenty of tasteful secondary II-V7s. On the B section the changes are similar to the bridge of Woody 'n You, with side-slipping II-V7s going to G♭ major and A♭ major; the second half of the A section has descending II-V7s recalling the A section of Woody 'n You despite the different form. The melody on the second half of the bridge is the same as the first half up a whole step.

There are several rhythm section figures in the head, starting with ascending hits in the first measure to "walk up" from D♭maj7 to F♯m7. The bass pedals on beats 2 and 4 in the fifth through seventh measures. There are breaks in the first and fifth measures of the bridge.

Second parts are available for the quintet arrangement, as well as a Concert Condensed Score. The horns start in harmony but go to octaves in the second measure; a few melody phrases are in unison. In a couple of places the horns are briefly harmonized in seconds, which the second part resolves in a stepwise cadence.

A transcription of Booker Little's trumpet solo is available; click on the Solos tab for more details.
"
Booker Little 4 & Max Roach
," also issued as "
The Defiant Ones,
" was the first of Booker Little's four albums as a leader. The personnel is almost the same as Max Roach's quintet at the time, but with Tommy Flanagan on piano replacing
Ray Draper
on tuba; Roach had just started to switch to a three-horn, piano-less lineup.
Rounder's Mood
has been recorded several times since the '90s. Alto saxophonist Vincent Herring played it on his 2001 album "Simple Pleasure," featuring the same arrangement adapted for a trumpet/alto front line. Also notable is a two-tenor sax quintet version from the 1993 album "Tenor Legacy" by Joe Lovano and Joshua Redman.
CLIP
Booker Little's solo is two choruses long. This is quite a virtuosic solo, full of high-register lines and swooping 16th-note runs. Many of Booker's lines snake around chromatically with enclosures and passing tones, for example at the beginning where he surrounds the fifth of the tonic chord from above, below, and above again. Notable chord alterations and extensions are shown below the staff. The soloists on this recording alternate between concert Fm7 and Fm7♭5 on the third and eleventh measures, and the latter is shown below the staff where it is implied.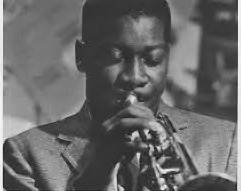 April 2, 1938 – October 5, 1961
A tragic loss to the world of jazz at age 23! Hearing is certainly believing: in Booker's short life, he still was able to leave us with recordings and compositions that are guaranteed to astonish and captivate. His effortless-sounding virtuosity ranks him as one of the greatest trumpet players. He was also a gifted composer, who obviously took composing very seriously, as his recording output shows. Booker began on trumpet when he was 12 and played with Johnny Griffin and the MJT + 3 while attending the Chicago Conservatory. He worked with Max Roach (1958-1959) and then freelanced in New York. He recorded with Roach and Abbey Lincoln, was on John Coltrane's Africa/Brass album, and was well-documented during a July 1961 gig at the Five Spot with Eric Dolphy. Booker Little led four sessions before his tragic early death. Read more...