Red Sky Waltz

– Don Friedman

Though this beautiful song begins in 3/4, it contains two 4/4 sections within its form. The exclusive audio features Don in a duo setting with bass prodigy Daryl Johns, 15 years old at the time.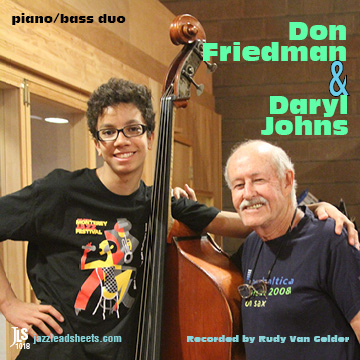 All selected items will be available for download after purchase.
Recording:

Don Friedman - Don Friedman - Daryl Johns Duo

Recorded on:

August 6, 2011

Label:

jazzleadsheets.com (JLS 1018)

Concert Key:

D

Vocal Range:

, to

Style:

Swing (medium)
Piano - Don Friedman
Bass - Daryl Johns
Like many of Don Friedman's compositions, Red Sky Waltz has the timeless quality of a standard. The recording shown here, a piano/bass duo arrangement, demonstrates its versatility.

Though this song is called a waltz, the meter switches from 3/4 in the A sections to 4/4 for the bridge; after eight more measures of 3/4 (C), the D section is six measures of 4/4 followed by six more of 3/4. The simple melodic theme is developed over a set of changes that, in the first six measures, recall Autumn Leaves, then going in a different direction to make a 10-measure phrase that resolves in D instead of G.

D is the home key; however, the lead sheets are written without a key signature because several different key centers are explored. The second A section moves toward D in a different way, starting with chords a third lower than in the first A but with the same melody adapted to fit the new changes. The bridge travels briefly to A major, with a chromatically descending melody; the C section is the same as the first 8 measures of the opening A section, then back to 4/4 for six measures of further descent toward the last sic measures, a 3/4 vamp in D. The coda replaces the last 4/4 measure with five descending chords, ending in D major but getting there in an unexpected way.

Don does not play the melody exactly as it's been notated here. In particular, the rhythms of the first, third, fifth, and seventh measures of the A sections can be interpreted in either of two ways: two dotted quarter notes, as written, or a half note followed by a quarter note. On this recording, Don plays the latter rhythm in the right hand when he plays a left-hand counter melody that sets up the third beat.

A full transcription of the head as played on this recording is available; check the Bass Corner for more details about the Piano/Bass Duo Score.
"Don Friedman - Daryl Johns Duo"
was recorded at the legendary
Van Gelder Studio
in Englewood Cliffs.
This song had been recorded twice before our duo version with Don and bassist Daryl Johns, but neither earlier recording is currently available as a download online. The first was on a trio album, also titled "Red Sky Waltz," that Don did for the Japanese label Alfa in 1996 with
Santi Debriano
on bass and Akira Tana on drums. Don originally heard his composition in a more dream-like atmosphere, at a slower tempo, with the bass being free to improvise around the melody
[clip]
. This original trio recording also stays in 4/4 for the C section and leaves out the last four measures of the form. The solos on this version are entirely in 3/4; the tempo is slower and the 4/4 sections of the head are played with even 8ths rather than swung.
After a composer first records his composition, then starts playing it on a regular basis, sometimes elements of the composition get reformed and become more finalized for the composer. That is the case for this composition. These changes are reflected in our lead sheet editions.
In July 2009, two years and a month before our duo version, Don recorded it in Germany with his Salzau Trio (with Martin Wind on bass and Joe LaBarbera playing drums) alongside the Gerdur Gunnarsdottir String Quartet. The trio + string quartet arrangement
[clip]
follows the form heard on our duo version and on our lead sheets.
Bass Melodies (Daryl Johns, bassist)
An extraordinary composition, Red Sky Waltz is a tour de force that takes both the player and listener on a magical journey through melody, harmony and rhythm. This is no typical waltz; while it starts in 3/4 there are two distinct changes to 4/4 within. Rhythmic abilities get a workout here, for the focus required to nail these time signature transitions is immense, yet they must seem smooth and effortless or else the effect is diminished. Being able to glide between opposing time signatures and feels is something that has been highlighted in modern jazz, yet it can be unclear as to how to learn such a skill. Just by playing it, Red Sky Waltz will provide a wonderful training ground.

Melodically, the A sections contains a moving motif that could easily fit into a romantic piano sonata! These parts call for the bass and piano to take the melody in unison, which will be a test for the bass player in numerous areas. The first area is pitch, as there is a bunch of thumb position work here. These voyages up north are rather brief, for there is a contrasting interplay between this higher octave and the middle register that lies below it. To succeed here requires dedication and devotion to accurate long-distance shifts, a profoundly important and challenging skill. It is not easy to jump back and forth into thumb position with precise results.

In addition, it is imperative to check out the phrase lengths. The A sections are ten bars long, which can be a challenge, for most players are used to two, four and eight bar lengths but rarely encounter ten. This act of compositional brilliance is not only satisfying to listen to, but enlightening and exciting to play, for it provides inspiration for different kinds of melody, spurring you on to new-found heights of greatness!

Lastly, this is another piece where the bassist has to "wear many hats," as there is a balancing act of both supportive accompaniment and singing melodic stylistics throughout. The A and C sections require an unfaltering dedication to melodic playing and locking up with the piano that way while letters B and D need a sturdy, grounded "2" feel accompaniment underneath. This sort of flexibility is a must for the 21st century performer, as we never know what a piece of music is going to require from us. Red Sky Waltz gives tremendous guidance and insight if faithfully tended to and respected.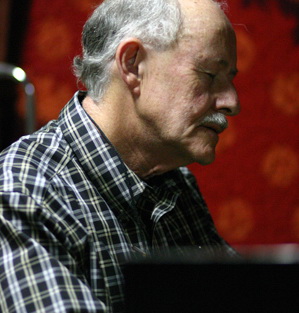 May 4, 1935 – June 30, 2016
Don Friedman was only four years old, living in San Francisco, when he started playing his parents' piano. A year later, he started lessons with a private teacher. His love for jazz music was born when he moved to L.A. and heard the likes of Les Brown and Lee Konitz for the first time. Read more...