One For Honor

– Charles Fambrough

This uptempo Latin/swing uses a distinctive bass line to "set the hook." Bass part and lead sheets.
Recording:

McCoy Tyner - Horizon

Recorded on:

April 24 & 25, 1979

Label:

Milestone (M 9094)

Concert Key:

A

Vocal Range:

, to

Style:

Latin/swing (uptempo)
Piano - McCoy Tyner
Bass - Charles Fambrough
Drums - Al Foster
As bassist Charles Fambrough knew, the way to get your composition recorded by a giant like pianist McCoy Tyner is to give him something that he can definitely relate to. Our excerpt starts with Charles' bass set up that quickly lets McCoy jump in for eight bars of soloing before McCoy and Charles state the melody. All this is notated clearly in the lead sheets. We've also included a Bass part which clearly shows how Charles played the melody while at the same time keeping the bass line going.

Charles's first jazz recording was with McCoy Tyner (1976, "Focal Point"). In 1977 Charles played cello on a track for a Rahsaan Roland Kirk session. Before the "Horizon" session, Charles recorded one more album with McCoy (1978, "The Greeting"). This album is part of the Orrin Keepnews Collection from Concord/Fantasy/Milestone.

In 1980, Charles started recording with Art Blakey and the Jazz Messengers, and he went on to record with fellow Messengers James Williams and Bobby Watson. Charles also recorded One For Honor on his own album for CTI Records in 1991, "The Proper Angle." (see clip above).

As Charles recorded it with McCoy: this is a bass player's dream—you get to play the melody while you also play the supporting bass part. Actually, this bass part covers everything, so a bassist could just play this as a duo with bass and drums.

Bass Melody and Essential Bass You play the melody with the piano or with any other instrument playing it in a quartet setting. This is a very essential part: you play both the melody and the bass part (roots).


Recording:

Charles Fambrough - The Proper Angle

Recorded on:

May 29-31, 1991

Label:

CTI (2-79476-2)

Concert Key:

A

Vocal Range:

, to

Style:

Latin/swing (uptempo)
Trumpet - Wynton Marsalis
Tenor Sax - Branford Marsalis
Soprano Sax - Joe Ford
Piano - Kenny Kirkland
Bass - Charles Fambrough
Drums - Jeff "Tain" Watts
Conga - Jerry Gonzalez
Percussion - Steve Berrios
This second clip is from Charles's own recording, "The Proper Angle," done in 1991, an award-winning album produced by Creed Taylor and recorded by Rudy Van Gelder. This version is taken at a similar tempo to McCoy's, but the addition of congas gives the groove a slightly different flavor. The three-horn arrangement recalls McCoy's arrangements for three horns on his classic album "Expansions."

"The Proper Angle"
was recorded at the legendary
Van Gelder Studio
in Englewood Cliffs.
Recorded at the Van Gelder Recording Studio, this album was acclaimed for its sound.
One For Honor
is one of only three of the 11 songs on this album on which Branford Marsalis plays; his brother Wynton is on more of the album.
Recording:

Orrin Evans - Freedom

Recorded on:

June 2, 2010

Label:

Posi-Tone (PR8083)

Concert Key:

A

Vocal Range:

, to

Style:

Latin/swing (medium)
Tenor Sax - Larry McKenna
Piano - Orrin Evans
Bass - Dwayne Burno
Drums - Anwar Marshall
Pianist Orrin Evans hears the Latin and swing sections a little differently. The Bass plays Fambrough's Latin bass part intro, but down an octave. Then, instead of playing the first eight measures of the melody Latin, the bass walks, freeing Orrin to interpret the melody rhythmically as he hears it (swing). After the melody, they use the Latin intro again as a 16-measure interlude before Orrin solos. After Orrin solos on piano, he plays the melody, then they return to the Latin intro as their coda and create their own surprise ending. Sorry, but you'll have to get the track to check out their ending.

Bassist Dwayne Burno did a great job here. His death in 2013 was a great loss. During this period Dwayne was working with such diverse artists as Joe Chambers, Roy Hargrove, Justin Robinson, and he did several recording sessions with trumpeter Jeremy Pelt.
Burno was also on
Introducing Jim Rotondi
with jazzleadsheets.com composers
Jim Rotondi
,
Eric Alexander
and
Billy Drummond
.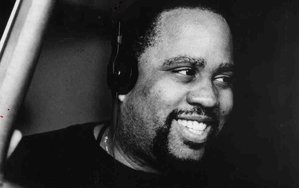 August 25, 1950 – January 1, 2011
Pennsylvanian Charles Fambrough was a well-respected jazz bassist, composer and record producer. Fambrough received a scholarship to study classical piano, but picked up the bass at age thirteen, eventually leaving school to pursue his true passion in jazz as a bassist. In 1968 he began playing in local pit bands for musicals. He joined saxophonist Grover Washington's band in 1970. Fambrough also had considerable experience playing Latin jazz as a sideman with Airto Moreira and Flora Purim, as well as Jerry Gonzalez and the Fort Apache Band. Read more...