Okay Blues

– Harold Land

A classic example of Harold Land's earlier style, with quite a variety of phrase structures packed into a compact blues form. There's a rhythm section intro which is shown with full piano voicings in our Piano/Bass part.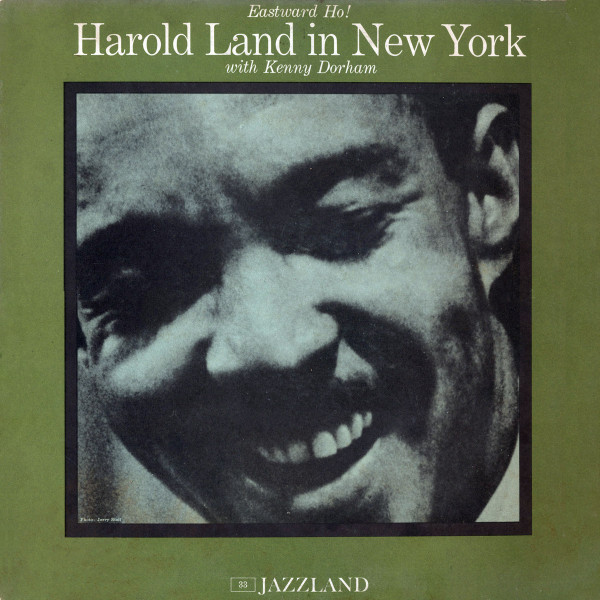 All selected items will be available for download after purchase.
Recording:

Harold Land - Eastward Ho!

Recorded on:

July 5, 1960

Label:

Jazzland (JLP 33)

Concert Key:

F

Vocal Range:

, to

Style:

Swing (medium)
Trumpet - Kenny Dorham
Tenor Sax - Harold Land
Piano - Amos Trice
Bass - Clarence Jones
Drums - Joe Peters
Equal parts fun and challenging, Okay Blues is a great example of Harold Land's early style. This minor blues head has a catchy, bouncy theme, but it's much more than just a "riff" song. The 4th and 12th measures have slippery 16th-note lines, while the "turnaround" in the 9th and 10th measures has an angular line that spells out a circle of fourths in three-note rising patterns. These two measures have rhythm section hits that go along with the line, rising from C7 in minor thirds.

There's an unusual rhythm section intro, just three measures long with a two-beat pickup. Bouncy piano phrases are answered with pedal figures in the bass, on F for two measures and C in the last measure. We have a Piano and Bass part which shows this intro with two-handed piano voicings condensed into one staff to leave room for the bass figures.
Okay Blues
is the only Harold Land composition on "
Eastward Ho!
" Recorded in New York but with a West Coast rhythm section, this was Harold's fourth album as a leader. With pianist Amos Trice and bassist Clarence Jones, Harold was back in Los Angeles later that month recording his next album "
Take Aim.
"
Kenny Dorham
recorded three albums as a leader in 1960, including "
The Arrival Of Kenny Dorham
" in January and "
Jazz Contemporary
" in February, both featuring baritone saxophonist Charles Davis, as well as "Showboat" in December.

February 18, 1928 – July 27, 2001
Many people only know of Harold Land as the great tenor saxophone soloist who made the classic quintet recordings with the Clifford Brown - Max Roach Quintet: Joy Spring, Daahoud, The Blues Walk and other classics—many of which are available from jazzleadsheets.com. Harold is far more than just a great tenor saxophonist sideman. Read more...