No More Fire (Over You)

– Rachel Gould

Lyrically, a modern view of the end of a romance. Musically, an edgy but embracing bossa. Lead sheet and Rachel Gould's vocal transcription.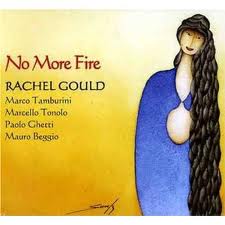 All selected items will be available for download after purchase.
Recording:

Rachel Gould - No More Fire

Recorded on:

March, 2001

Label:

Caligola Records (2062)

Concert Key:

A-flat

Vocal Range:

Alto, E-flat3 to G4 written 8va

Style:

Latin (Bossa)
Vocal - Rachel Gould
Trumpet & Flugelhorn - Marco Tamburini
Piano - Marcello Tonolo
Double Bass - Paolo Ghetti
Drums - Mauro Beggio
A bossa with a bit of a bite,
No More Fire
manages to be edgy and sometimes even brassy while maintaining the laid-back vibe so integral to the bossa nova style . A chord progression that refuses to settle in one place gives this piece a bit more movement than a classic bossa.
Our audio excerpt starts at the top of the head—this arrangement has no introduction. During the head, the trumpet responds to the melody with short fills and background lines. After one time through the AABA form, Marco Tamburini takes a trumpet solo with many smart references to the melody for a complete chorus. This is followed by a half chorus of a piano solo from Marcello Tonolo. Rachel comes back in on the bridge and brings the song to a close. The final chord is an intriguing G7 sharp 5 chord, an unusual touch since the song is in A-flat.
Jazzleadsheets also offers two other titles from Rachel's album "
No More Fire
,"
My Magic Ring
and
So Very Glad
.
Lyric Description:
No More Fire
is a celebration of the utter indifference that comes with finally being completely over an old relationship. Now that time has healed the anger and sadness, the singer is finally happy and free and open to new possibilities.
Vocal Transcription:
For the singer who wishes to learn more about vocal phrasing, we offer a transcription of Rachel's performance. This edition shows exactly how Rachel phrases the melody; some of her rhythmic interpretations are very subtle, but others are quite bold. Comparing the lead sheet and the transcription shows how a master vocalist stays true to the composition while still giving it her own flair—an important lesson for any singer!
If another key would be better for you, send the key you'd like to
Don
and we'll post the transposition on the website for purchase. If you're not sure which key is best, send us your range and we'll work with you to figure out the best key.
Vocalist Rachel Gould lived in Holland at the time of this recording. She's performed and recorded with arrangers and bandleaders such as Woody Herman, Bill Holman and many European bands and small groups. She often writes both music and lyric, although since becoming acquainted with Second Floor Music and jazzleadsheets.com she's added her own words to the music of such composers as
Dexter Gordon
and
Philly Joe Jones
.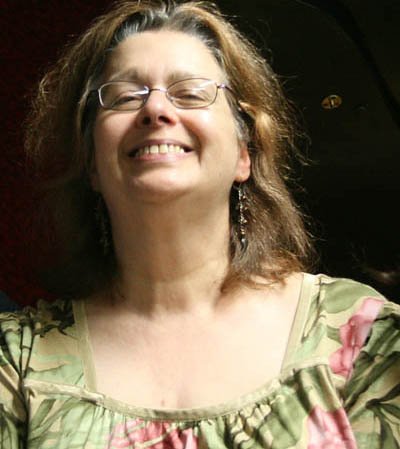 born on June 25, 1953
Rachel Gould, born in Camden, New Jersey, has a deeply personal style and a rich, low voice that are instantly recognizable. A graduate of Boston University for cello and classical voice, Gould began singing professionally in the 1970s in the United States. However, it was not long before she left for Europe, living in Germany and Switzerland before settling in Holland in 1991. Read more...