These titles were originally recorded in the month of January, various years.
DEEP PASSION by Lucky Thompson.
A classic ballad by one of the masters of ballad writing and playing, on tenor sax. Lucky recorded this one twice, once in a quartet format with pianist Hank Jones, bassist Oscar Pettiford and drummer Osie Johnson; and once with the Oscar Pettiford Orchestra. We're providing lead sheets (the same for both recordings) as well as Lucky's Melody and Solo Transcriptions from both recordings. A perfect opportunity to examine in depth the melodic and rhythmic artistry of this great artist and composer. Our own Elijah Shiffer and pianist Isaiah Thompson demonstrate their version on video.
A LADY'S VANITY by Lucky Thompson.
Lucky Thompson's exploration of the two sides of a woman, body and soul, in music. Lucky improvised this track over the standard's changes. Take a look at his improvisation; available in B-flat and C.
Here are three more compositions from pianist David Hazeltine's album, The Classic Trio Volume 2. These obviously all work great in a trio context, but try them featuring front line instruments for a real treat.
David's FACE TO FACE uptempo trio swinger, lead sheet complete with two shout sections for soloist send offs, which on the recording is where David and master drummer Louis Hayes face off.
Another one from David, FROM HERE TO THERE: 3/4 swing, melody floating over the momentum, tension-producing chords to resolve. A trip begging to be taken.
TOO SWEET TO BEAR, also from David Hazeltine. Medium tempo, even eighths, no key center, fascinating to solo over. David's Solo Piano Arrangement is also available so you can get inside all of his voicings.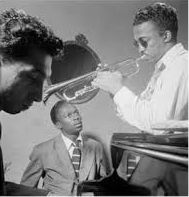 And out of the past, a very important trumpeter player and composer coming to jazzleadsheets.com for the first time. Howard McGhee's READY FOR LOVE features Howard playing his melody as a set up for the great tenor saxophonist Coleman Hawkins' solo. If you're not familiar with Howard McGhee, all you need is one look at this picture of Miles Davis looking on as Howard plays to understand Howard's importance. Starting as a master in the swing era, he joined Charlie Parker in the bop world and then continued to grow in the hard bop world and beyond. One of the few artists who transitioned successfully through many jazz styles.