Morning Glory

– Steve Allee

Though this song may seem simple, with a melody that leaves a lot of space, the harmony and form are quite complicated. Besides the original trio recording, check out the exclusive audio and video of the composer playing it.
All selected items will be available for download after purchase.
Recording:

Steve Allee - Dragonfly

Recorded on:

January, 2008

Label:

Owl Records (F 117)

Concert Key:

No key center

Vocal Range:

, to

Style:

Latin (medium up)
Piano - Steve Allee
Bass - Bill Moring
Drums - Tim Horner
It is not easy to find a name for the kind of groove used on this song. It is almost like a samba, but with slightly swung eight notes; it is also similar to the feel on Ahmad Jamal's famous arrangement of Poinciana, but not as regular. Whatever it may be called, it provides a very comfortable background over which the melody floats. The melody has a haunting quality; it leaves a lot of space, with the phrases only beginning to develop in the second measure of each section of the form, and holding the last note out for as many as four measures.

Each of the five sections of this 52-measure song (12, 8, 8, 12 and 12 measures) contains a melodic ascent and descent; the E section is a variant of the A section. The phrases of the melody are mostly diatonic within themselves, but each is around a different key center; occasionally there is some chromatic motion to fit with the many harmonic twists and turns. One chord, however, is intentionally left unmatched with the melody: the B♭7/E♭ in the third measure of the D section. The melody note here is A natural, which is not in a B♭7 chord; Steve's voicing contains both A natural and A♭.

There is an eight-measure intro repeated twice, which features a bass figure on a D pedal. A similar rhythm reappears in the bass line over the last 8 measures of the D section, which are all on D minor. The coda adds an eight-measure tag followed by a repeat of the E section. On this trio recording, Steve solos for two choruses, followed by a bass solo over the intro pedal point.
This is the second Owl recording of this trio; the first, in 2006, was on Steve's album "Colors". Steve, bassist Bill Moring, and drummer Tim Horner have all recorded separately and together on many Jamey Aebersold play-along CDs.
Allee is a tireless champion of great music and the people who create it. jazzleadsheets.com first became involved with Steve when we were reaching out to find a contact for the late pianist Claude Sifferlen. Steve was most helpful in that endeavor, and Sifferlen's music will soon be available here. Along the way, he introduced us to another Indianapolis pianist and composer,
Steve Corn
.
All selected items will be available for download after purchase.
Recording:

Steve Allee - Steve Allee - Solo Piano Compositions

Recorded on:

November 30, 2013

Label:

jazzleadsheets.com (JLS 1019)

Concert Key:

No key center

Vocal Range:

, to

Style:

Latin (medium up)
Steve's solo version is ultimately similar to the original trio recording. He adds a few more rhythmic left-hand figures during the long melody notes, most notably in the last four measures of the head. The top notes written with small note heads on the lead sheet, in the last five measures of the D section, are not all played here. This part of the form is where Steve ends his solo and returns to the out head for the E section and coda. Steve's fills in the final chord are indicated on the lead sheet for both the "Dragonfly" recording and his solo piano recording.
Steve's artistry on the piano has gained him national recognition including 18 weeks in the Top 20 including the #1 spot on the national Jazz Week charts with the Rufus Reid 'Out Front' Trio! In November of 2013 Steve was in New Jersey with bassist Reid, situated very close to the Van Gelder Recording Studio. It was an opportunity jazzleadsheets.com could not resist, so we met Steve at the studio and spent the afternoon talking about Steve's life, his musical friends and his career.

The afternoon finished up with Steve playing a few of his compositions on Rudy's piano, the one played by Thelonious Monk.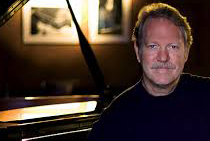 born on September 14, 1950
Pianist, composer and arranger Steve Allee is a veteran of more than 35 years on the music scene, working principally in jazz, writing and performing for syndicated radio programs, network television and motion pictures, and as a music educator. Read more...