Monique

– Elmo Hope

One of Elmo Hope's most beautiful ballads, dedicated to his daughter. Both Elmo's and Bertha Hope's recordings have no solos, but this song has a very interesting form to solo on.
All selected items will be available for download after purchase.
Recording:

Elmo Hope - Sounds From Rikers Island

Recorded on:

August 19, 1963

Label:

Audio Fidelity (AFSD 6119)

Concert Key:

F, No key center

Vocal Range:

, to

Style:

3/4 ballad
Tenor Sax - John Gilmore
Piano - Elmo Hope
Bass - Ronnie Boykins
Drums - Philly Joe Jones
This delicate 3/4 ballad is one of Elmo Hope's most beautiful compositions. It certainly has Elmo's trademark style, with its constantly unfolding melody, but this song at times also shows an almost classical lyricism that really makes it unique. Check out especially the melody at the beginning and in the B section. This song is more melody-oriented than many other Elmo Hope songs which focus more on the harmony.

Our lead sheets show the key as concert F, which is the key implied from the second half of A through the B section; however, this song begins and ends on B♭maj7 and thus doesn't have a singular key center. The form is quite irregular like many of Elmo's songs: an eight-measure A section is followed by a six-measure B section (with the last measure in 2/4) and a 13-measure C section for a total of 27 measures. The B section rests on an F7sus chord while a bass countermelody—shown in our C treble clef lead sheet—fills in around the melody. This bass line continues through the first two measures of C; this section starts with a modulation toward E major which never gets resolved, instead becoming a rising series of II-V7s. This last section really has the kind of constantly shifting melody and harmony that characterizes many of Elmo's ballads.

In the eighth measure of C, the smaller chord symbols E7sus and E7 are shown above the full size symbol for E7. On the recording, Elmo harmonizes the D 16th note with an A (E7sus) and the following E 8th note with G♯ (E7) on the first chorus, but plays only the E7 the second time.

This recording is two choruses long with no solos. Elmo plays the melody throughout the first time; tenor saxophonist John Gilmore comes in for the second A section melody. Elmo takes over for the B section, freely embellishing the melody; Gilmore plays the C section melody out. This song can certainly be opened up for solos, which would be on the entire form.
Monique
is dedicated to Elmo and Bertha Hope's daughter. Her name is actually Monica; the "French" spelling in this song's title may have some connection to the title of Elmo's earlier song named for his wife Bertha,
La Berthe
(coming soon to jazzleadsheets.com).
Tenor saxophonist John Gilmore and bassist Ronnie Boykins were members of Sun Ra's Arkestra for almost their entire careers. "
Sounds From Rikers Island
" was the only recording of Gilmore outside the Arkestra in 1963. Later in 1963, Boykins played on tenor saxophonist
Bill Barron
's album "Now Hear This!"
All selected items will be available for download after purchase.
Recording:

New Stories - Hope Is In The Air

Recorded on:

April 28, 1998

Label:

Origin (82434)

Concert Key:

F, No key center

Vocal Range:

, to

Style:

3/4 ballad
Flugelhorn - Don Sickler
Piano - Bertha Hope
This duo version of
Monique
is the first half of a medley with another 3/4 ballad by Elmo Hope,
Three Silver Quarters
. It's only one chorus long and goes straight into the other song. In this duo setting without bass and drums, parts of this song sound particularly classical—especially the interplay between the melody and bass line in the B section.
Don Sickler
and
Bertha Hope
worked together to get Elmo's music notated and titled correctly. Through the late 1980s and into the 1990s, Bertha often came over to the 28th Street jazzleadsheets.com loft; they sorted through what manuscripts were available, listened to all recordings, and together came up with the final versions, represented in our lead sheets. Bertha, of course, had her memory to guide them, having listened to Elmo's playing as he was composing. It's great that the two (Bertha and Don) were able to devote the time necessary to complete the process.
This
recording
took place in Rudy Van Gelder's studio.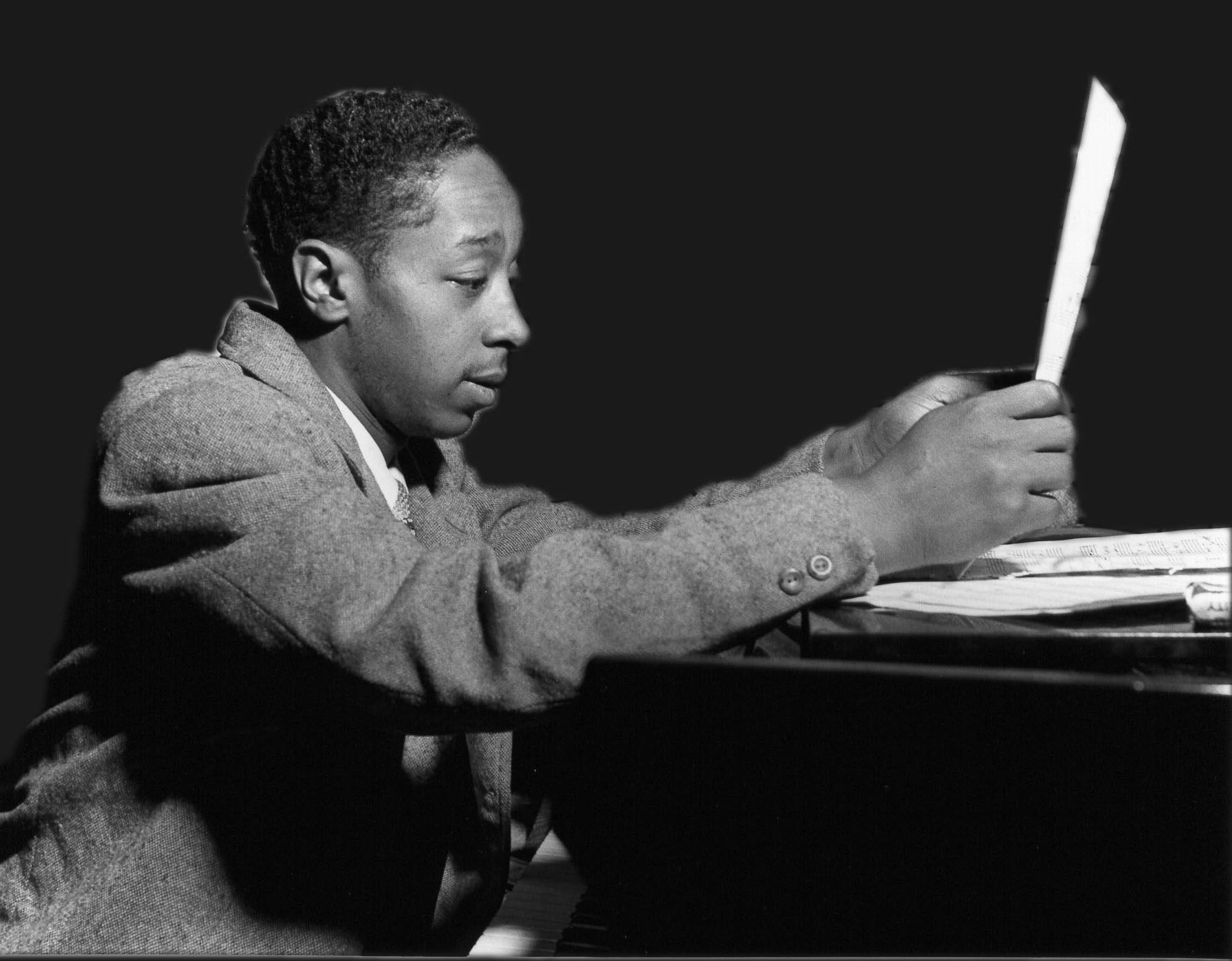 June 27, 1923 – May 19, 1967
An imaginative pianist who valued subtlety over virtuosity in the landscape of bebop, Elmo Hope never achieved the fame that his close friends did, perhaps because he so rejected stylistic norms of the time. Elmo was a classically trained pianist with technique rivaling that of his childhood friend Bud Powell and a composer of music whose inventiveness and complexity approaches that of Thelonious Monk. In fact, Elmo, Thelonious and Bud used to hang out so much together in the late 1940s they became known as "The Three Musketeers." Powell, in Francis Paudras' book "Dance of the Infidels" is quoted as saying, "You gotta hear Elmo. He's fabulous. His stuff is very hard. He does some things that even I have trouble playing." Read more...