Mirrors (We All Need)

– Robert Watson

This warm, soulful ballad is a complete statement despite having a form only eight measures long. Besides lead sheets and second parts from Bobby Watson's original quintet recording, we have two arrangements available by Don Sickler: one for a three-horn sextet, and another (with an exclusive video) for four alto saxes.
Recording:

Bobby Watson - Midwest Shuffle

Recorded on:

November, 1993

Label:

Columbia (CK 57697)

Concert Key:

F

Vocal Range:

, to

Style:

Ballad
Trumpet - Terell Stafford
Alto Sax - Bobby Watson
Piano - Edward Simon
Bass - Essiet Essiet
Drums - Victor Lewis
A warm-toned ballad that makes a complete statement in only eight measures. The lyrical melody, entirely diatonic in the key of F major, has a soulful sound that lends itself to expressive embellishment. The chord progression begins in B♭ major and takes a roundabout route to the tonic, only touching down in F major in the second half of the last measure after a half-step resolution up from E7.

Bobby Watson prefers not to show key signatures in his lead sheets; accordingly, we show no key though the tonality of this song is relatively clear.

About the arrangement: A condensed score and second horn parts are available that reflect this quintet recording. Bobby never plays the melody, instead adding a countermelody behind trumpeter Terrell Stafford on the repeat of the in head and the out head (which is not repeated). He embellishes the fourth measure of this countermelody a bit on the in head; we have gone with the out head for this measure in the part.

Solos on this recording go to a double-time swing feel. Our solo changes are written out twice as long in the faster tempo. A couple of stepwise "walk ups" are added to the solo changes, fleshing out longer II-V7s.

For more songs from "
Midwest Shuffle
" check out
A Blues Of Hope
and
Mabel Is Able
.
This lineup of Bobby Watson's Horizon quintet had previously made a studio album in 1991, "Present Tense," which was trumpeter Terell Stafford's debut recording. Pianist Edward Simon and drummer Victor Lewis played on Terell's first album as a leader, "Time To Let Go,", in 1994. Another album with the same Bobby Watson quintet lineup is "
Horizon Reassembled
," recorded in 2004.
Recording:

Bobby Watson - Mirrors Sax Quartet

Recorded on:

September 4, 2016

Label:

jazzleadsheets.com (JLS 1057)

Concert Key:

F

Vocal Range:

, to

Style:

Ballad
Alto Sax - Bobby Watson
Alto Sax - Jon Gordon
Alto Sax - Kira Daglio Fine
Alto Sax - Elijah Shiffer
A Don Sickler arrangement, this time for saxophone quartet—but a unique lineup consisting of four altos. As with the sextet arrangement (see next cover), there are four melody choruses; each alto gets to play the melody. The instrumentation builds as it goes: first alto 1 on the melody with a countermelody from alto 2, then the second chorus goes to 3-part counterpoint adding the melody in alto 3. Alto 4 enters with the melody for another counterpoint chorus, and the final chorus goes to block harmonies with alto 2 on the lead. In the first two choruses, the counterpoint lines come together rhythmically on the second and sixth measures. Alto 2 plays a brief fill in the eighth measure of the last chorus, and then alto 4 cues a final chord with a solo pickup.

In our exclusive video recording, each alto player adds their own expressive interpretation to the melody. It can also be played more precisely as written, which we illustrate in an additional recording by Kira Daglio Fine and Elijah Shiffer each overdubbed on two parts. This "straight" version is used as our audio clip.
Though Bobby Watson has played and written extensively for a standard two altos/tenor/bari quartet lineup as a member of the 29th Street Saxophone Quartet, he has not yet otherwise recorded in this unique 4-alto setting.
In September of 2016, jazzleadsheets.com composers Robert Watson and
Jon Gordon
were both in NYC. It seemed like a perfect time to document
Don Sickler
's Four-Alto Sax arrangement; with Bobby, Jon, Elijah Shiffer (jazzleadsheets.com staff) and Kira Daglio Fine (jazzleadsheets.com intern).
At the time of this session, Kira Daglio Fine was a student at Columbia University and an intern at jazzleadsheets.com. She is also featured on this site (and also on our YouTube channel) playing Gigi Gryce's
The Infant's Song
with our Minus You track, as well as in a time-lapse of her drawing of Gigi Gryce from a classic photo by Frank Wolff (
Social Call
).
Recording:

Bobby Watson - Mirrors

Recorded on:

November, 2016

Label:

jazzleadsheets.com (JLS 1056)

Concert Key:

F

Vocal Range:

, to

Style:

Ballad
- Trumpet
- Alto Sax 1
- Alto Sax 2
- Tenor Sax
- Piano
- Bass
- Drums
A sextet arrangement of
Mirrors
by jazzleadsheets.com's
Don Sickler
, with MIDI audio available. We have a full set of transposed horn parts for a variety of possible lineups; trumpet, alto sax, and tenor sax are the horns shown in the Full Score. This dramatic arrangement goes four times through the head before the solos, building instrumentation each time. It begins with tenor sax on the melody accompanied only by bass. The second chorus adds alto sax for the melody, with tenor and bass countermelodies. The third chorus has three-part counterpoint in the horns, with trumpet entering on the melody; the drums come in here too, and the bass starts a steady 2-feel. In the fourth chorus the piano enters and the horns switch to block-chord harmonies, with trumpet still on the melody. This fourth chorus is also the out head. The entire arrangement can be heard in the audio clip.
The end of the fourth melody chorus extends with a half note into the beginning of the first solo chorus; the bass is the first soloist. This extension of the melody is shown in the first measure of the solo section in the parts; in the score there is a separate measure in the first ending showing the full half-note chord in the horns and piano.
This arrangement was written in 2016 but has not yet been recorded, thus we are making it available in a
MIDI audio format
for now. Several more unrecorded arrangements are coming soon to jazzleadsheets.com.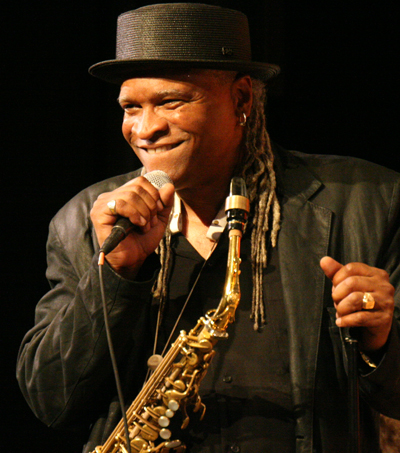 born on August 23, 1953
Robert "Bobby" Watson, who was born and raised in Kansas City, Kansas, grew up to become a jazz saxophonist, composer, arranger and education of formidable talent and acclaim. He got his degree from the University of Miami before becoming a member (and later the musical director) of legendary drummer Art Blakey's Jazz Messengers. He remained an invaluable member for four years, from 1977 until 1981. Read more...